Cat's Snuggles Save Baby Abandoned In Box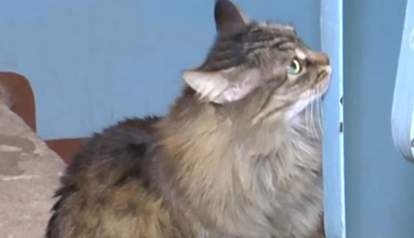 <p> <strong><strong><a class="checked-link" href="http://chel.kp.ru/daily/26327/3211441/">Komsomolskaya Pravda</a></strong></strong><strong><a class="checked-link" href="http://chel.kp.ru/daily/26327/3211441/"></a></strong><span></span> </p>
A baby found abandoned in a box on a cold winter day in Russia is alive and well today - all thanks to one cat's life-saving cuddles.
As Russian news outlet Pravda reports, the two-month-old baby boy was discovered near the dumpsters of an apartment complex in the city of Obinsk, after resident Nadezhda Makhovikova heard the desperate meowing of the building's communal cat, Murka.
When Makhovikova arrived to investigate, she found the long-haired tabby cat cuddled alongside the helpless infant, sheltering him from the sub-freezing temperatures like she would her own kitten.
"One side [of the baby] was already hot - [the] cat warmed [him] in the few hours he spent in her box," Makhovikova says, as translated by Google.
Murka remained close by, reportedly licking the baby until paramedics arrived to take him to the hospital. Fortunately, the child is said to be "completely healthy," no doubt because of Murka's help.
Experts say it's not unusual for some animals to step in as parents to human children.
"Cats and dogs, when they're the mothering type, in that mother mode, it happens more often than you would believe," Susan Naylor from the Society for the Prevention of Cruelty to Animals told HLN. "They're just very good at it."