'Orange Is The New Black' Star Treats Rescue Dog To A Tropical Vacation
It doesn't get more glamorous than this.
Ruby Rose, best known for her role in the Netflix series "Orange Is The New Black," has been hard at work shooting her upcoming movie "xXx: The Return of Xander Cage" in the Dominican Republic. Still, in a series of recent Instagram videos and photos, it appears that the 29-year-old Australian actress was more than happy to use a day off to spend some time with none other than her rescue dog, Ru.
It seems Ru was a little skeptical at first about all of this vacationing business ...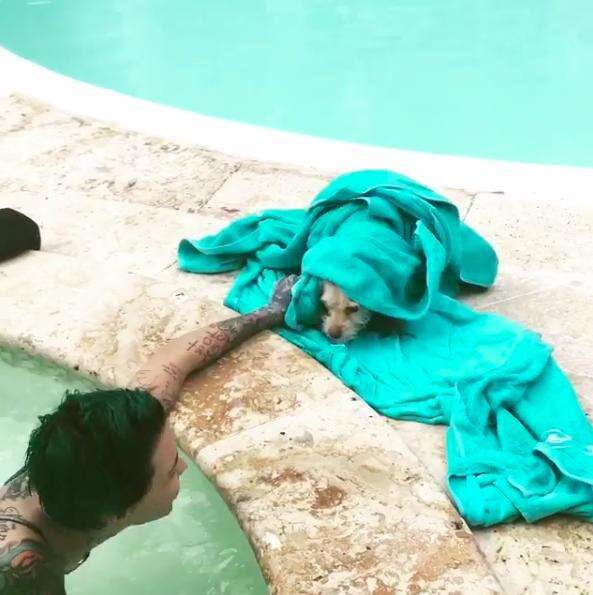 But presumably, a little coaxing from her mom was more than enough to eventually get her on board and swimming ...
... proving that her dog-paddle skills are pretty on point.
In addition to luxurious days spent poolside, Ru also gets to sleep in a soft bed with real beach shells sewn onto the pillows.
She really is one lucky dog.
.
She's a dog with special needs ...
... who has trouble with her rear legs ...
... but she has yet to make an appearance in Rose's Dominican Republic photos.
Rose also has a pet cat who lives back home in Australia.
But Ru's the one who has been by her mom's side, from plane flight to set, most recently.
Rose is a supporter of the "adopt don't shop" movement and is known for posting about shelter dogs in need of forever homes on her social media accounts ...
Two weeks ago, Rose lost her beloved cat, Cricket, to coyotes. In a bittersweet Instagram post, Ruby revealed she found out the devastating news while she had been away.
Fortunately, she has some help healing from this loss ...
... with the two other loves of her life.