I Saved A 300-Pound Pig From Hurricane Katrina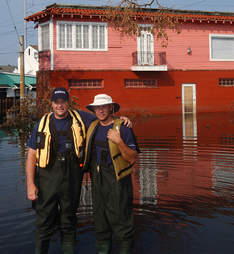 Camera men Chris Nickless and Stewart Cook in flood waters following Hurricane Katrina. Photo: IFAW
I've worked with IFAW since 1998 and helped to document many projects across the world. From grizzly bear rehabilitation, oil slicked birds, underwater photoshoots with humpback whales to documenting Canada's seal hunt.
Nothing can really compare to my time in Louisiana with cameraman Chris Nickless though as first responders documenting IFAW's response to hurricane Katrina in 2005.
It stands alone with so many stories, so many memorable images. Even 10 years on I remember the animals, scenes and the smells. When I knew I was going to write a guest blog as part of the Hurricane Katrina commemorations I called Chris and we recounted some of our memories.
Rescuing an old man who had suffered a stroke unable to evacuate himself, we carried him to our small boat making room amongst the dog crates to get him to medical staff.
IFAW participated in the emergency evacuation of Ed, a 70-year-old stroke victim, and his family. Photo: IFAW
An abandoned guard dog that seemed unapproachable but freely gave us kisses by the time our skilled responder had calmed it down and coaxed him into our boat. A Pomeranian that leapt into our arms. A kitten weakly crying out from a porch. Birds, an iguana and even fish rescues. National Guard Helicopter encounters, chaos, confusion, heat and days without showering.
Photo: IFAW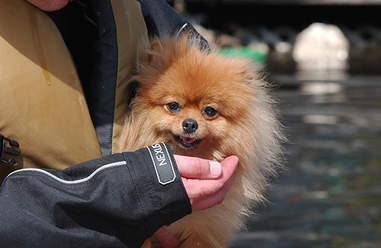 Photo: IFAW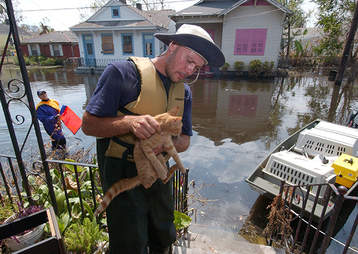 Photo: IFAW
Photo: IFAW
One story though, stood out.
We were in New Orleans at our make shift staging area near Napoleon Avenue and St Charles Avenue. A Canadian TV crew came by and told us that a man on a nearby street had an animal that needed to be rescued. The water had shallowed somewhat at the entry point and we had to drag our boat for a couple of blocks taking turns in the sweltering heat. As we trudged the water splashed up at us and while it was cooling the smell of it was pungent and strong. Chris had named it the "potty water" which was quite appropriate.
As the water deepened we engaged our out-boards and passed cars submerged over their roofs and houses with water lapping the window sills. A warning sign spray painted on the side of a home warned "U Will B Shot Dead".
Photo: IFAW
Photo: IFAW
We negotiated downed wires, pylons and other other submerged hazards. At around 5 feet the depth of the water was an obvious concern especially as we juggled our cameras around the animal crates and supplies in the small boat, but we also wore waders so a chance of drowning if we fell in was a real concern.
Approaching the home we saw two people standing on the steps. "Do you have an animal to rescue?" someone asked. "It's my pig." the man cried. "Can you take my pig?"
We entered his home and were introduced to Rooty, a Vietnamese pot-bellied pig. "She's my baby," the man said with love.
"I can't leave her." The day before mandatory evacuations had been ordered across New Orleans, the National Guard were patrolling in air boats and following through on those orders.
"I asked them to shoot her," said the man, tears welling in his eyes, "but they wouldn't do it. I can't leave her to starve"
Rooty snorted and mooched around the house as a plan was drawn up on how we could get her down the stairs and into our boat. We decided to throw a blanket over her and several of us fought to keep her inside as she was lowered into the largest crate we had.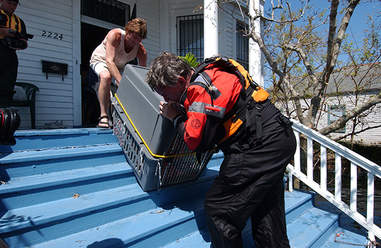 IFAW and the CODE 3 Emergency Response truck rescue animals from homes flooded by Hurricane Katrina in New Orleans. Photo: IFAW
Rooty, a Vietnamese pot-bellied pig, is rescued from New Orleans. Photo: IFAW
At 300 pounds it was quite a fight, she snorted loudly and there was a lot relief once she was in and hastily the lid was added. Rooty was inside. We now had 15 stairs to slide her down with a small boat and deep water below. Tying a rope to the crate we slowly slid her down the stairs, it went smoothly but a small slip at the end got our hearts racing.
Using one boat with the out-board and another being towed with Rooty on board we slowly made our way back through the debris. The water shallowed and we walked alongside shooting photos.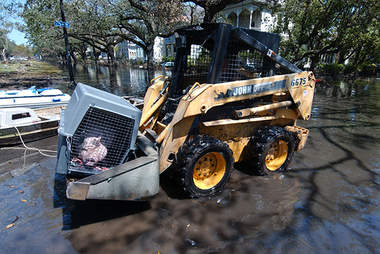 Photo: IFAW
Approaching the loading area again we dragged Rooty in the boat across roads until a Bobcat arrived and we used the bucket to carry her away.
She was taken to the Lemar Dixon Expo Center where she was checked over and put in a stall.
Over the years that I've told the story people always ask what happened to Rooty and sadly I had no idea. As with all events of this nature you lose track of information and follow up becomes very difficult. We move on. This week seemed the perfect time to maybe try and remedy that. Back in New Orleans for the anniversary of Katrina with IFAW we decided to track down Rooty's owner.
I had no idea if he still lived in the house. Where was the house? Was Rooty alive? How long do pigs live?
With an idea of where the staging area was and the rough route we took, some photo evidence and a little Google time we drove around until we stumbled on Jim Parson's home. A beautiful 100-plus year old raised house, palm trees and balconies and those 15 bright blue steps.
Unannounced, I knocked the door not really expecting to find him but through the window I immediately recognized the man as Jim. "Hi, I'm Stewart" I said "I helped rescue your pig 10 years ago."
Jim smiled broadly, "IFAW?" he asked, "Hang on." Running inside he emerged with a children's book, "The true tale of a New Orleans Pig - Our Rooty," dedicated to first responders, animal lovers and IFAW.
For the next hour and half Jim talked about his experience during Katrina. How they lived on Meal, Ready-To-Eats (MREs) dropped by helicopters when the food went bad, the sewer bugs that infested his house, the oppressive heat and of course the desperation of not knowing what to do with his beloved Rooty.
When the water receded Jim was eventually reunited with Rooty. With tears in his eyes he talked of bringing her home and how his hands bled trying to clear the toxic soil so she could have somewhere to root. Rooty died in 2010 at 15-years old and Jim says she is now rooting for peanuts in piggy heaven.