Rooster Escapes Slaughter And Meets A Friend Who Gets It
"Remember me? I am Felix. Until July 15, I was nameless and three days before that I was hopeless. I fell off a truck taking me to be killed, but a kind person saw me lying on the road and brought me to the Eastern Shore Animal Hospital in Virginia where my smashed wing had to be amputated."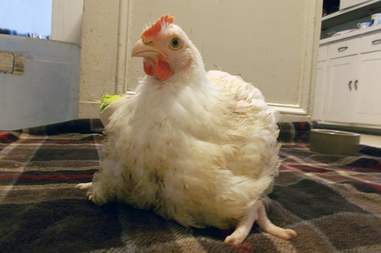 Photo: Karen Davis
"So here I am today, living at United Poultry Concerns, where everybody loves me, and I have a new friend! Her name is Gabby. She too was saved by kind people. Here we are!"
Photo: Karen Davis
Photo: Karen Davis
Photo: Karen Davis
(Photos of Felix and Gabby by Karen Davis, United Poultry Concerns, Aug. 18)