They Have No Idea How Their Cat Got This Big
He's been on a diet for years.
Anna Soffer woke up one day to a lion in her living room.
At least that's how Rooster, who is actually a house cat, appeared that bleary-eyed morning - a towering feline frozen in mid-yawn.
"It kind of looked like he was a lion about to pounce," Soffer tells The Dodo. "So I Photoshopped him with a bunch of lions."
Anna Soffer
At 26 pounds, Rooster is certainly the king of this Los Angeles household. Technically, Rooster belongs to Soffer's roommate, Darcy Ripley. But in Soffer's imagination, Rooster is all hers.
"I started Photoshopping him in different situations and people seemed to think it's really funny," she says.
Whether that's enjoying a fine meal at the 2Olive Garden ...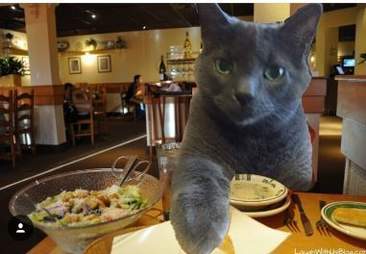 Anna Soffer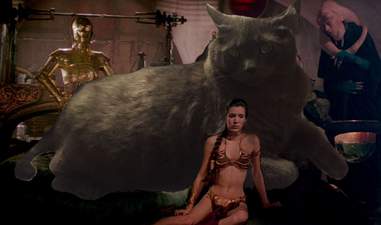 Anna Soffer
Or pulling off retro moves with Michael Jackson on the set of Thriller.
Anna Soffer
In real life, no one's quite sure how Rooster took on such epic proportions. According to legend, or at least fading memory, he was once actually a tiny kitten. Ripley spotted him in an online ad. If no one took Rooster home, the kitten would be dropped off at the pound.
So Rooster found an XXL-sized place in their lives.
Anna Soffer
But a few years ago, Rooster ran away from home. Maybe the cat just wanted to stretch his legs a bit and see the world. In any case, he was soon scratching at the door of his home again - and desperately relieved to be home.
Anna Soffer
"When he came back, he was really skinny and sickly," Soffer explains. "After that, he just never stopped eating."
That enormous sense of relief may have contributed to Rooster's ever-expanding girth. He gorged on his grateful family's generosity.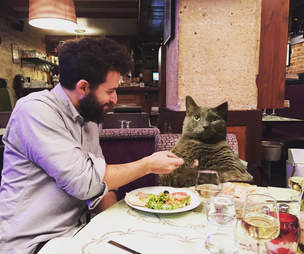 Anna Soffer
And he's a perfectly healthy cat.
"We've taken him to the vet," Soffer says. "We've had his blood work done. He's obviously on a diet. He just won't lose any weight."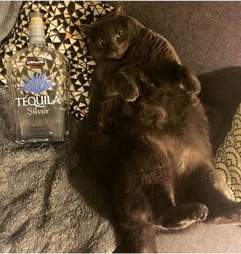 Anna Soffer
And Rooster has been inspiring awe - and awwws - ever since.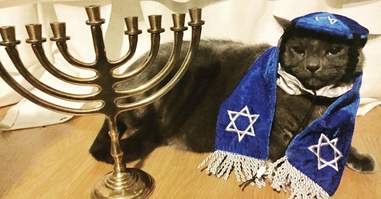 Anna Soffer
"I wonder if people who work at the Grand Canyon wake up every morning and are amazed by the Grand Canyon," Soffer says. "Every morning, I wake up and I'm amazed at how giant this cat is."Anna Soffer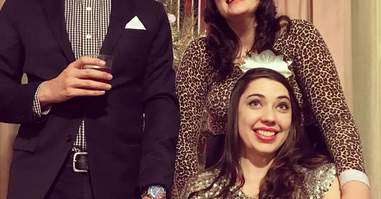 Anna Soffer
You can follow Rooster's adventures in Photoshop - and in real life - on Instagram.
And if you happen to be in the Los Angeles area this weekend, consider dropping by the Infinity on West Adams gallery on Saturday, where Rooster will be featured in an exhibit from 7 until 9 p.m.