A rabbit named Ronnie is spending a very happy Easter at his new sanctuary home. But his miraculous escape from a factory-like rabbit farm - which left him injured for life - shines light on the sad fates of meat rabbits across the world.
Ronnie was discovered earlier this year when a volunteer with Mino Valley Farm Sanctuary returned to her home in Vigo, Spain, after a long day of rescue work. She was surprised to find the handsome white rabbit sitting outside her door.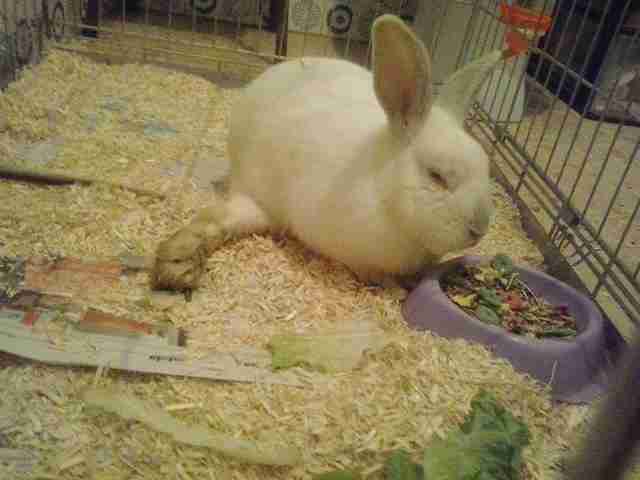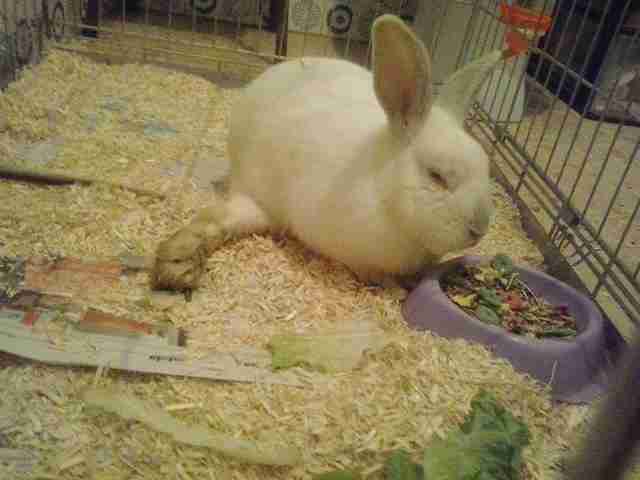 She was even more surprised that he was screaming.
"He was just absolutely petrified, and he wouldn't stop screaming," Abigail Geer, co-founder of Mino Valley, told The Dodo. "He was screaming in pain ... and [the volunteer] was just freaking out."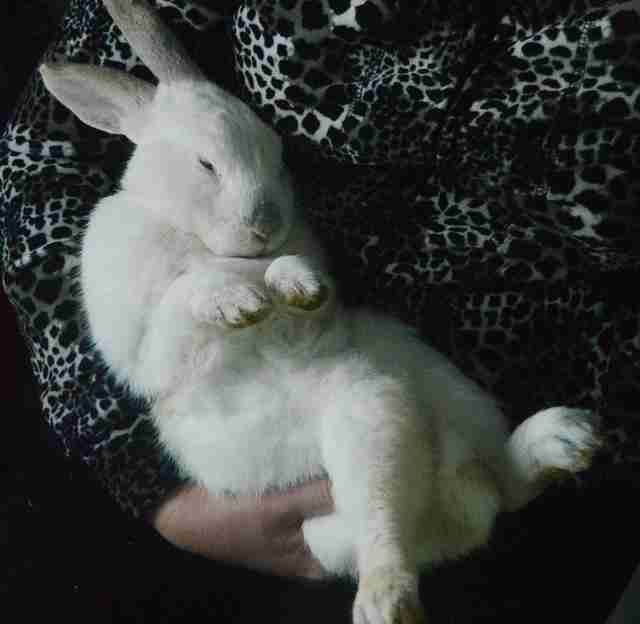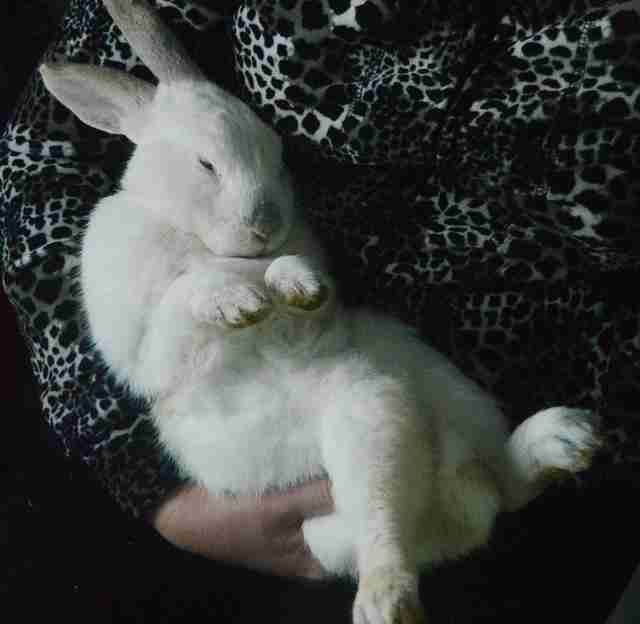 When the volunteer got closer, she noticed that the rabbit's back leg was splayed out at a sickening angle. Since she lived next door to a farm that raised rabbits under factory farming conditions, she figured he was a fugitive, and quickly rushed the little white bundle to a vet.
There, they discovered his leg was too far gone to pop back into place. Because the scared rabbit was in so much pain, a specialist was brought in to perform an operation that shaved off the top of his femur.
Ronnie's leg will never be normal. But fortunately, it's improving. A recent video taken at Mino Valley, where he now lives, even shows the little rabbit hopping around playfully while he investigates the big outdoors. And more importantly, he's beginning to recover mentally.
Though Ronnie was petrified of people when he was first found, the several weeks he spent with his foster mother - and the petting sessions cuddled up in her sweater - have showed Ronnie that the world can be a nice place.
"After a few days he was getting sweeter and sweeter," Greer said. "He came around to this idea that some people actually wanted to treat him well and be kind to him."
Ronnie's rescuers have since confirmed that he came from the neighboring meat farm, though they don't know how he accomplished his daring dash to freedom.
Unfortunately, aside from the happy ending, his story is no different than those of the thousands of rabbits kept in meat farms around the world. Because rabbits are considered so expendable, even small family farms - like the one Ronnie escaped from - often take on industrialized factory farm practices.
Though they're no different than the rabbits we keep as pets, rabbits unlucky enough to be born into these farms often spend their three-month-long lives in cramped battery cages where they're cut off from socializing and never see the sun, and are sometimes kept in absolute darkness.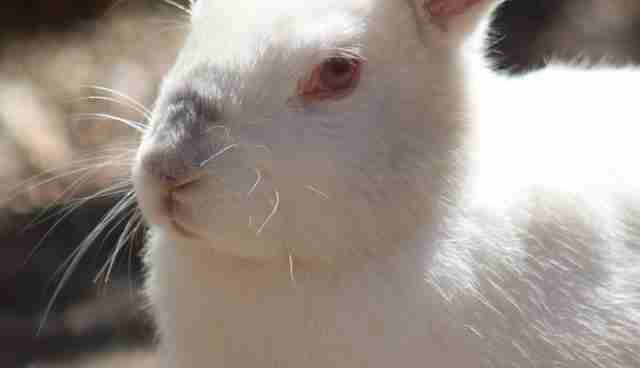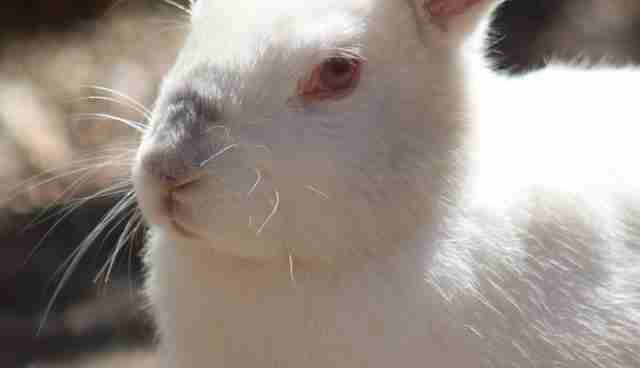 Fortunately for Ronnie, he can look forward to a happier future than the brothers and sisters he left behind.
"This is the first time in his life that he's been able to just be out all day, coming and going out of his little house as he pleases," Greer said. "He's really inquisitive, and exploring, and digging a bit in the dirt, and rubbing his little chin [to mark his territory]."
And while he's still wary, he's warming up to the idea of human affection. "He loves being stroked on the side of his face, and he just sort of closes his eyes and is making this cute little sound," she added. "He is really sweet."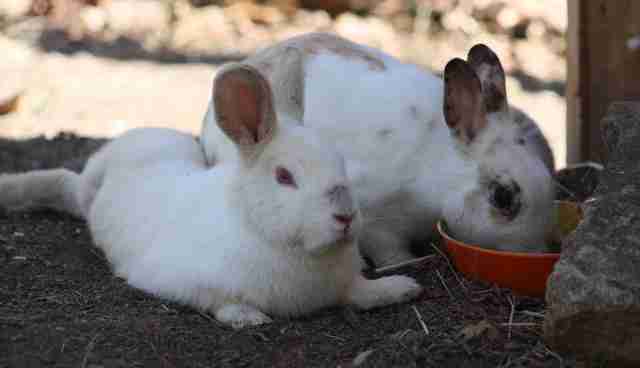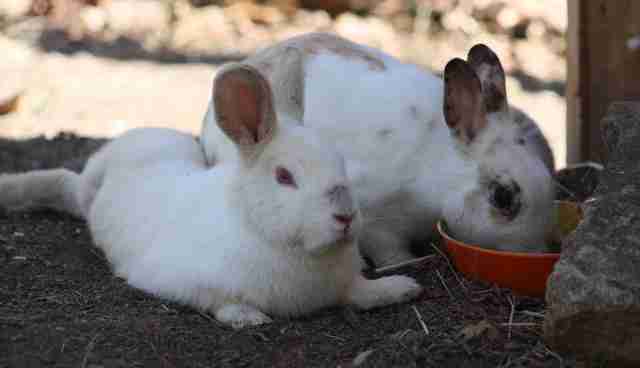 You can watch a video of Ronnie testing out his leg below.