Romping Bulldog Puppies Effortlessly Take Down Wily Stuffed Animals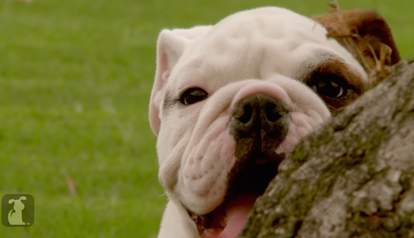 Everyone knows that gumption and energy are extremely vital when it comes to capturing toys. You'd be hard-pressed to find tougher pups than the baby bulldogs in this Pet Collective video, who can take down any stuffed animal with ease!
They work in pairs, because teamwork is very important when vanquishing a plush horse.
Look at those proud chins! True faces of success. If you have any trouble seeing their noble wrinkles, the pups will happily come closer ...
... like, really close. Maybe too close?
But honestly, there's no such thing as 'too close' when it comes to feisty little bulldogs. Especially when one generously displays his belly for a tummy-rub.
After a long session of romping and playing, these champions reward themselves by taking a moment to chill in the grass with Mom.
But, of course, they stay on the lookout to make sure that crafty stuffed animal keeps his distance, because you just can't be too careful!
Watch the full, glorious romping below:
Bulldogs have a wonderfully infectious, playful demeanor - however, they are not well suited for heat, so if you take your bulldog out to play, be sure they have a place to cool off in the shade and plenty of water!