No one has to tell a dog when his life has gone terribly wrong. When Romeo arrived at the bustling shelter in New York City, it was painfully obvious.
There's the onslaught of strange noises and smells. And, most crucially, the sudden absence of what he came to know as family.
It's little wonder so many dogs who once seemed flush with life completely shut down at a shelter. Romeo, a 7-year-old pit bull mix, was no exception.
"For two straight days, he refused to lift his head from the ledge in his kennel. Not a muscle, in fact," Second Chance Rescue NYC Dogs wrote in a Facebook post.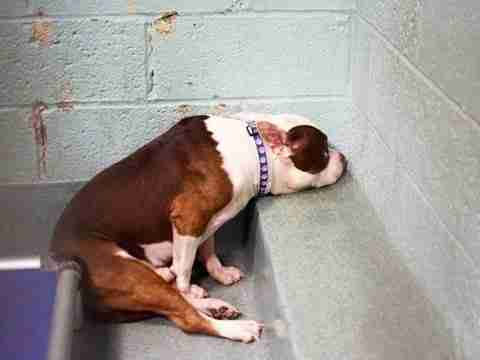 Of course, it wasn't Romeo's fault he ended up a number at a shelter. He had been bounced around a lot.
"He was given to a family friend who kept him for two months, but they did not have time for him," Kelcy Kimmerer of Second Chance tells The Dodo.
But just as the clocked ticked down its final moments, his kennel door opened.
Living up to its name, Second Chance Rescue NYC Dogs hauled him out of there. It was the only rescue group that stepped up to save the terrified dog. And soon, Romeo was placed with a foster family.
For a little while, things took a decided turn for the better. In the company of family, Romeo got his smile back.
"He is extremely sweet and friendly," Kimmerer says. "He needs to be around people."
The dog who once slumped in a cold kennel corner suddenly had hope written all over his face.
But the foster family couldn't keep him for very long. It wasn't Romeo's fault, Kimmerer says - "it just wasn't a good fit for him at that home."
So he was returned to the rescue.
Now, the group is desperately seeking someone who foster him during his recovery.
Romeo just needs some time. He's been through a lot. He's already made his miracle escape from death row. Now he needs to make it a lasting one.
Think that could be you?
Get in touch with Second Chance Rescue through Romeo's adoption profile. You can also email the group at scradoptables@gmail.com.