Rodeo Side-Show Mutton Busting: Bad For Kids, Bad For Sheep?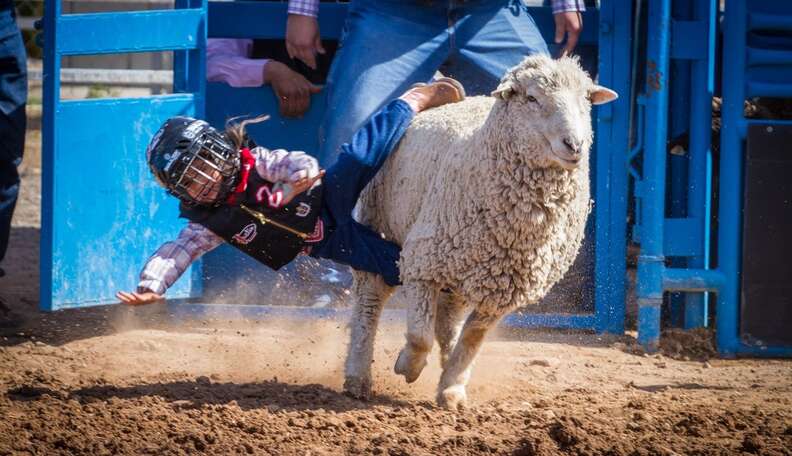 Rodeo season is wrapping up across the country, which means a number of children are recovering from -- or relishing their participation in -- an event that has been called one of the "weirdest" of all rodeo activities: mutton busting. Originally a filler event put on between acts, mutton busting is a version of bronco-riding transformed into a children's game -- and a bona fide rodeo event.
Small children, usually between the ages of 4 and 7, are placed on the backs of sheep, who immediately try to get the children off once they're released from individual chutes where they're held before the event begins. Participants are told to hold on tight and aim to stay on the sheep for as long as possible -- usually a matter of seconds. The average mutton buster is thrown to the dirt, face smeared with dust and glazed with tears, in about two seconds.
Mutton busting has been labeled child abuse by some animal welfare groups, despite its inclusion at rodeos across the United States (most commonly in Texas, Colorado, California and Wyoming). According to Tommy Giodone, president of Tommy G Productions and the leading organizer of mutton busting events around the country, thousands of children participate in mutton busting annually. But, because the event has no national oversight organization, it's impossible to know exactly how many children are involved -- or how many children are injured. The same goes for sheep, which has concerned animal welfare activists since mutton busting first appeared in the 1980s.
"Kids can get hurt -- every now and then arms get broken," Giodone said. "But I'll be first to tell you that if I don't have all the animals, I don't have a show at all. And if you don't take care of your animals, you don't have a good show."
Giodone explained that the sheep he leases for his events -- all ewes -- are bred for meat and wool, which makes them stronger and hardier than other breeds. And according to Giodone, they're less likely to get injured when carrying anxious children on their backs, although most mutton busting events enforce a strict weight limit. Rodeo Houston, for example -- one of the largest mutton busting events in the country -- only allows children aged five or six who are between 35 and 55 pounds to ride.
According to Glennon Mays, a clinical associate professor specializing in livestock at the Texas A&M University College of Veterinary Medicine, weight limits should, in theory, protect mutton busting sheep from harm -- so long as the limits are as strictly enforced as rodeo organizers claim they are. "If an object or person were excessively heavy and were to be placed on the animal's back, could it injure, or produce soreness or some musculoskeletal problem?" Mays posited. "It's certainly possible."
Mays went on to say that sheep tend to run away from confinement, though it's unclear whether the animals perceive the children strapped to their backs as confining or not. Both he and Giodone speculated that the child has little to do with the sheep moving at all; rather, it's just herd mentality. "Sheep want to be in the safety of the herd," Giodone said. "We put one sheep on one end of the arena and the other sheep run to them to be with the other."
But Gemma Vaughn, a case worker at PETA, said the opposite is true: the sheep run simply to get away, just as Mays suggested. "Basically, these animals are held still inside a chute and then forced to bear excited children on their bodies," Vaughn said. "They perceive the children as attackers that they must desperately try to escape." She added that the emotional trauma is amplified by physical pain that often goes overlooked after mutton busting events, including having their ears and tails yanked as children try to hold on or fall.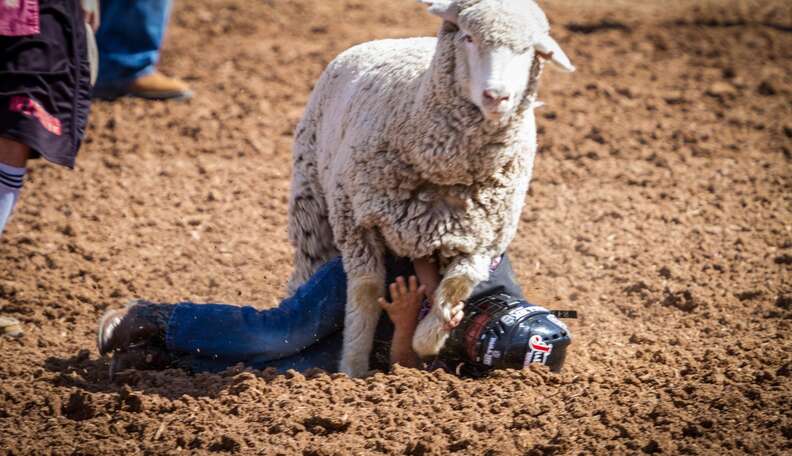 So given the likely danger for both children and animals, why do people continue to enroll their kids in the event? "That's the million-dollar question," Giodone said. "We think kids just want to do it -- they want to go fast. Our show is all about letting the kids be kids."
Ken Wittenkiend, father of mutton busting champion Zoe, agreed. "When Zoe first saw the event, that was it," Wittenkiend said. "She just wanted to do it. And when she competed again, she won and went on to another round in California... She had fun. It's just fun for them."
Whether or not mutton busting is fun for the animals, however, might not be answered anytime soon, despite strong conclusions from both those who love the event and those who despise it. "It's not hurting the animal," Giodone said repeatedly. "That's why we bring the right animal to the show. The sheep we're using are meant to be killed. We're keeping them alive."
But keeping them alive for what? Wittenkiend said that in his days of watching Zoe participate in mutton busting, he never saw any sort of protective gear for the sheep. He and Giodone called the ewes' living conditions more than respectable, but the animals are hauled from place to place in a trailer and spend limited time outdoors, so that they may be at the ready for interaction with kids.
"Mutton busting imparts to children that animals can be harassed for fun," Vaughn said. "If people want to educate about animals, we encourage them to participate in humane activity. It might involve watching Nat Geo, it might involve reading a book, but it does not involve unnatural activity with animals. And this is not a natural activity for a sheep."