5 Robots Pretending To Be Animals ... And Actually Pulling It Off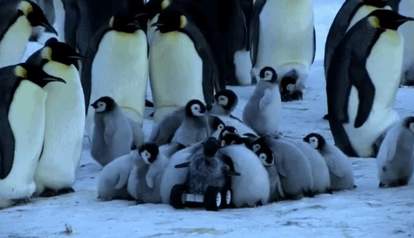 Sometimes animals get by with a little help from their robot friends. Here are a few of the best ways that technology is giving nature a helping hand:
The Aquatic Robot That Swims Like A Minnow
(PNNL/Flickr/CC BY 2.0)
The Pacific Northwest National Laboratory's Sensor Fish, though it may not look exactly like any fish known to evolution, is designed to let researchers get a better picture of the way that hydroelectric dams affect migrating salmon. Not only do spinning blades pose a threat to the fish who cruise beneath dams, but the pressure changes near dams can be extreme, the scientists found - the equivalent of racing from the surface of the Pacific Ocean to the top of Mount Everest in a split second.
The Robot That Motors Like A Grouse
The Robot That Flies Like A Hawk
The Swooping Robot That Could Gather Whale Snot
The Fuzzy Robot That Chills With The Penguins
Emperor penguins, despite their Napoleonic name, are rather timid animals, opting to retreat should a robot enter their territory. To give their rover a warmer welcome, international researchers designed fake chick camouflage, which lets the robot get up close and personal. Such a device could measure the body temperature of penguins, says University of Strasbourg's Yvon Le Maho, in an email to The Dodo. "I think we are paving the way for a new approach, enabling to increase our scientific knowledge while being more ethically acceptable," the French biologist says.