Pregnant Pig Leaps From Moving Truck To Save Her Babies
A pig broke out of a metal cage on her way to the slaughterhouse, leapt from the back of a truck moving on the highway and then gave birth to 14 piglets.
Whew.
Hungry babies at Animal Place sanctuaryAnimal Place / YouTube
And they would prefer to be doing other things.
These piglets have arrived.Animal Place / YouTube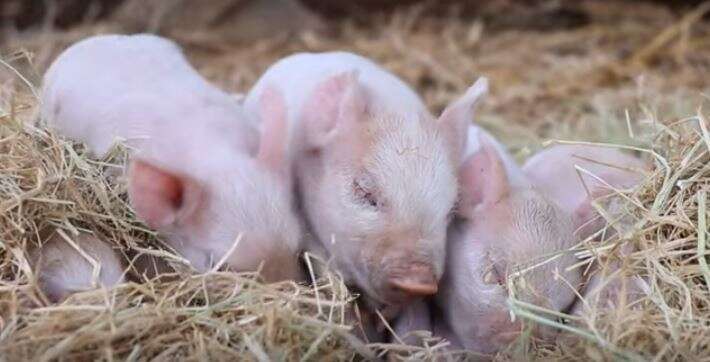 This pig's owner apparently insisted otherwise, loading the sow on a truck with other pigs bound for slaughter. But on California's Highway 50, near Sacramento, she managed to break free of her cage. Her next leap was from the truck itself while it was moving on the highway.
Miraculously, she landed in the soft, curbside grass unharmed. Workers with animal control managed to get her to a shelter. Then, in quick succession, came 14 more little miracles.
Five of them, however, didn't survive, likely due to stress.
Because no one from the factory farm claimed the fugitive sow, she along with her children were turned over to Animal Place.
That's a 600-acre animal sanctuary in Grass Valley, California, where the pig, now named Rita, along with her nine children can do things like this:
Fly piglet, fly!Animal Place / YouTube
Mmm... dirt.Animal Place / YouTube
Friends for life.Animal Place / YouTube
If you would like to learn more about Animal Place, or make a donation to help animals in need, click here.