Ringling Elephants Perform Their Last-Ever Circus Show
After more than one hundred years in business, the world's most famous elephant show has finally reached its end.
On Sunday, Ringling Bros. and Barnum & Bailey Circus performed its final elephant shows in Providence, Rhode Island, and Wilkes Barre, Pennsylvania, before retiring its remaining elephants for good.
The elephants were trotted out during the show on in Providence for a final "goodbye" to the audience, during which they propped themselves up on each other's backs and performed headstands for the crowd.
Elephants performing during Ringling Bros.' final elephant show in Providence, Rhode Island.

| Facebook/Ringling Bros. and Barnum & Bailey Circus
"The care of exotic animals is a tremendous responsibility," the ringmaster said. "This is why our team of animal experts assure us we have the healthiest, happiest and most physically fit herd in the world."
"The formations you see here tonight are based on natural behaviors," he added as the elephants spun in circles. "Our other exercises are designed to keep our elephants circus-fit."
Ringling Bros. announced last March that it would be retiring its elephants by 2018, later moving the date up to May 2016. The company has been dogged by welfare concerns for years: Numerous elephants in its care have died suspicious deaths, including several babies.
An elephant performs a headstand during Ringling Bros.' final show.

| Facebook/Ringling Bros. and Barnum & Bailey Circus
Animal lovers have also raised concerns about the psychological well-being of elephants forced to spend months on the road in tiny cages, and about the often brutal training methods Ringling Bros. uses to prepare young elephants for the circus.
But with the last elephant show ever in the past, there could be a new future ahead for these tired animals.
Wayne Pacelle, president of the Humane Society of the United States, said in a statement that the final shows "[signal] a turning point in the history of our society's tolerance of wild animal acts." He noted that he's seen a wave of animal-friendly decisions in the wake of Ringling's announcement, including several circuses who have decided to end their own exotic animal shows.
Elephants stand on two legs during their final circus show.

| Facebook/Ringling Bros. and Barnum & Bailey Circus
Of course, many things are still unclear about the the retired elephants' future. Ringling Bros. will retire them to its Center for Elephant Conservation in Florida, which for years stood as the headquarters of the circus' breeding efforts and questionable training programs, instead of an accredited sanctuary. And it's uncertain if they will still be forced to perform.
"While we celebrate the termination of this cruel and archaic practice, tragically, the elephants will not be spending the rest of their lives in nirvana," the Animal Welfare Institute said in a statement. "Rather than sending them to a sanctuary, the elephants will be held at the company's Center for Elephant Conservation in Florida, long known for chaining and keeping elephants on concrete and for using bullhooks and electric prods."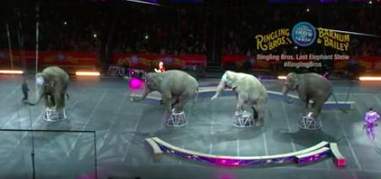 Elephants "dance" during their final show.

| Facebook/Ringling Bros. and Barnum & Bailey Circus
Of course, any step in the right direction is still a step forward. And for now, hopefully just getting off the road will be an improvement in the lives of these much-deserving animals - and a signal to the world that elephants don't belong in the circus.
If you'd like to help care for elephants like these who have been rescued from circuses, you can make a donation to The Elephant Sanctuary in Tennessee or the Performing Animal Welfare Society.