Another Baby Elephant Dies At Ringling Bros.
Another elephant has died at Ringling Bros. and Barnum & Bailey Circus.
Mike, a 2-year-old Asian elephant, passed away at the circus's Center for Elephant Conservation on Monday, according to a press release from parent company Feld Entertainment. He was the youngest calf at the facility. The cause appears to be elephant endotheliotropic herpesvirus (EEHV), Ringling Bros. said.
"Mike only began to show the slightest of symptoms on Saturday and was eating and drinking well as late as Sunday afternoon, but the illness progressed very rapidly," Dr. Ashley Settles, director of veterinary care, said in a statement. "As soon as symptoms began we started treating him but by Monday morning there was nothing more anyone could do to prevent his passing."
Shutterstock
Shutterstock
"It's only through the close relationship with our elephants that our staff was able to determine Mike was not feeling well and we started aggressive treatment for EEHV even before it was confirmed," Stephen Payne, vice president for corporate communications at Feld Entertainment, said in an email to The Dodo. "Alas, the virus can be devastating to young elephants which is why we have been supporting research efforts, particularly with the Smithsonian, to find ways to treat and prevent the disease."
Herpes is fairly common among captive elephants and can be highly fatal, though Ringling Bros. said Mike is the first elephant to die of the virus at the Center for Elephant Conservation. Yet welfare groups are pointing out that Mike is the latest in a long string of elephant deaths at the controversial Florida facility.
While animal lovers rejoiced at last year's announcement that Ringling Bros. would be retiring its performing elephants by 2018 - a date that was later moved up to this spring - the good news was tempered by the fact that the elephants would be retired to the Center, which, despite its name, has historically served as a training camp rather than a sanctuary.
The Center has been accused of keeping elephants at the facility in chains for much of their lives, and for controlling them with with electric prods and bullhooks, painful pointed instruments that have been banned in several U.S. cities.
Elephant calves tied up at Ringling Bros.'s Center for Elephant ConservationSam Haddock/PETA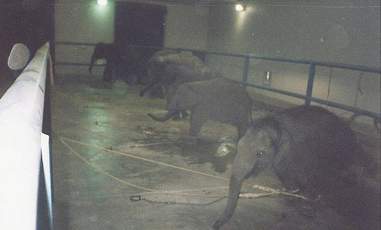 Elephant calves tied up at Ringling Bros.'s Center for Elephant Conservation

| Sam Haddock/PETA
Elephants born there have been taken away from their mothers as infants and later subjected to a fairly brutal training "crush," which involves forcing the young animals into unnatural positions. Tuberculosis has run rampant.
Ringling Bros. has since announced that the soon-to-be retired elephants would still be bred and would be used for oncology research. It's unclear if the center will be opened to the public, or if Mike was being trained to perform.
In a statement, PETA Foundation counsel Rachel Mathews highlighted the Center's history of questionable elephant care, and questioned whether it contributed to Mike's recent death.
Shutterstock
Shutterstock
"This young elephant's sad death is no surprise given that four other baby elephants have died under Ringling's watch, including one 8-month-old whose hind legs were shattered during circus training and a 3-year-old who drowned in a pond while trying to get away from a trainer with a bullhook," she said. "These stressful conditions have been linked to the highly fatal disease that killed this calf, which disproportionately impacts captive baby elephants, yet Ringling continues to breed more babies for a life in chains."
Of course, whatever the cause, the death of such a young elephant is a tragedy.
Rest in peace, little fellow.
If you'd like to help elephants who have been rescued from circuses and zoos, you can make a donation to The Elephant Sanctuary in Tennessee.
Update: This story has been updated with a statement from Stephen Payne.