Ringling Bros.' Long Journey From Hidden Horrors To Setting Elephants Free
<p><a href="https://www.flickr.com/photos/acaben/456667815">Flickr/Ben Stanfield</a></p>
<p><a href="https://www.flickr.com/photos/acaben/456667815">Flickr/Ben Stanfield</a></p>
Animal advocates have been waiting decades for Ringling Bros. to improve its treatment of elephants. Considering the circus has had more than 50 USDA animal welfare citations since 1993, the writing was on the wall.
Here's a timeline of the more significant elephant controversies - and a reminder of why Ringling Bros.' decision to end the use of circus elephants is such a momentous occasion for the animals in its care.
January 1998: Ringling Bros. forces a severely sick 3-year-old elephant named Kenny to perform in three shows in one day.
Kenny dies hours after the last show. The USDA charges Ringling Bros. with violating the Animal Welfare Act - and drops the charges after Ringling Bros.' parent company donates $20,000 to elephant-related causes.
February 1999: USDA investigators find two 18-month-old babies, Doc and Angelina, tied up.
Ringling Bros. says it's part of their weaning process. In nature, baby elephants are weaned at age two to four and stay with their mothers for life. Ringling Bros. weans them by one year. The process involves tying the babies in ropes and dragging them away from their mothers for training. Both Doc and Angelina have injured legs. The USDA warns Ringling Bros., but doesn't press charges.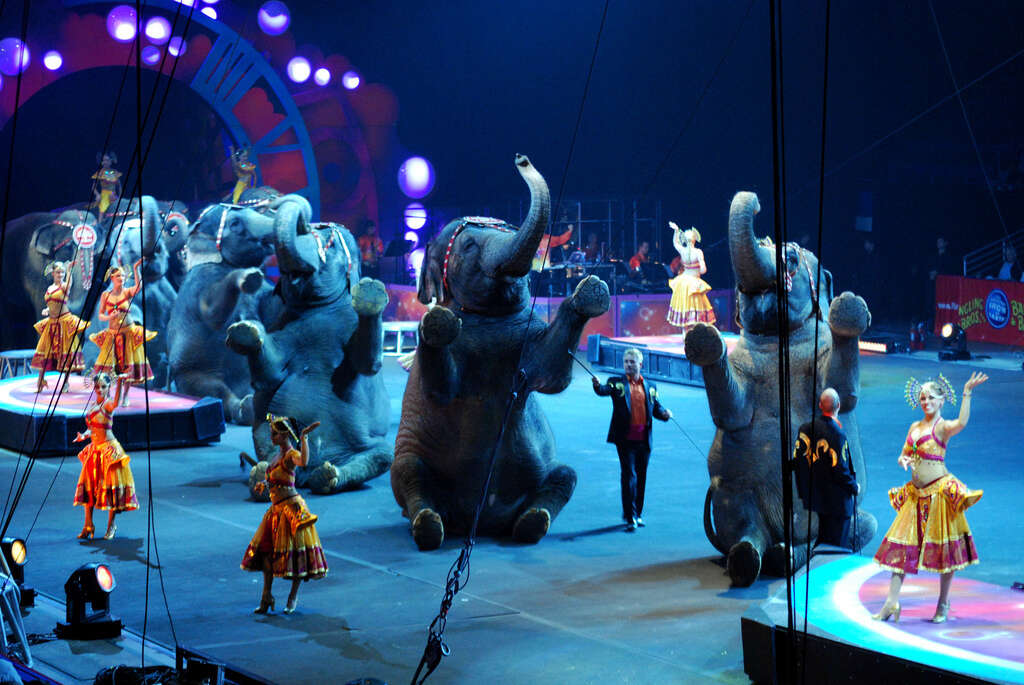 July 1999: A 3-year-old elephant named Benjamin dies mysteriously in a pond.
Ringling Bros. originally says he swam underwater of his own accord. It's later revealed that his trainer was hitting him with a bullhook and Benjamin swam to deep water to escape. He suffered a heart attack and drowned. The USDA doesn't press charges.
August 2004: An 8-month-old baby elephant named Ricardo has to be euthanized after shattering two of his legs.
Ringling Bros. originally says he fell off a platform. It's later revealed he was injured during a training exercise, where he was dragged onto a platform with a rope. The USDA doesn't press charges.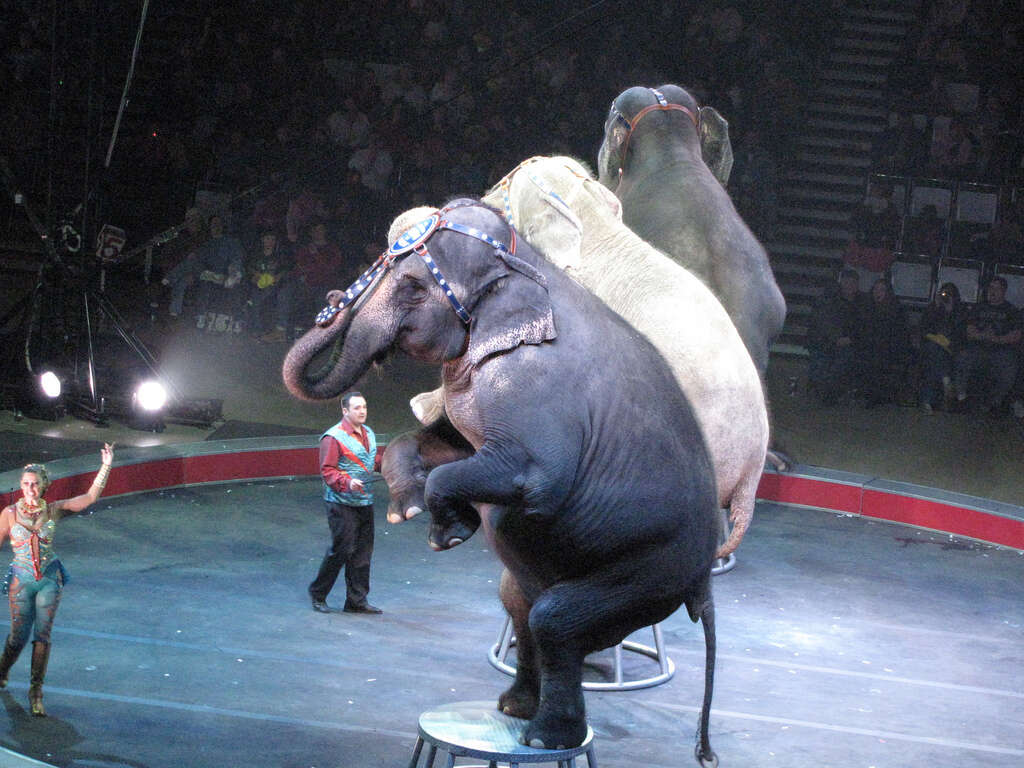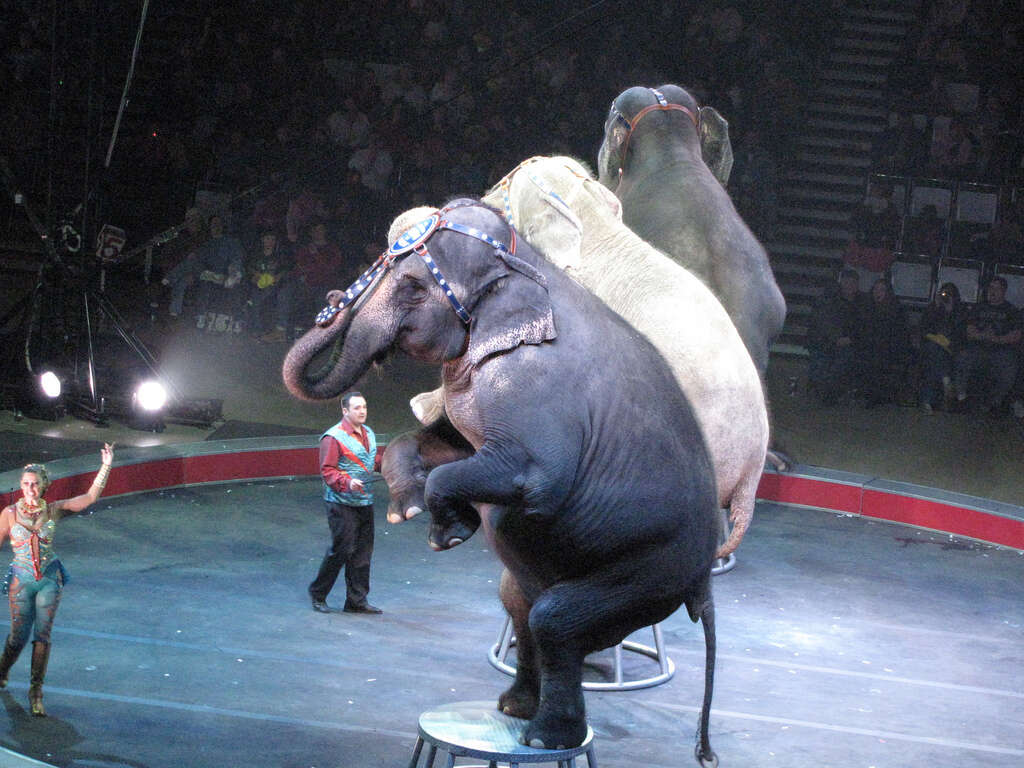 December 2009: PETA reveals undercover footage of trainers abusing elephants.
Videos taken by PETA reveal trainers hitting elephants with bullhooks on sensitive parts of their bodies. Photos show baby elephants "bound with ropes and wrestled into uncomfortable positions." A former trainer tells PETA that the elephants scream and cry out when they're being "trained."
November 2011: Mother Jones publishes an investigative piece on Ringling Bros.' history of elephant abuse.
The publication reveals that elephants spend their lives in chains, are plagued by chronic lameness and diseases like tuberculosis and syphilis and are frequently struck with bullhooks, whips and electric prods.
November 2011: The USDA fines Ringling Bros. $270,000 for violations of the Animal Welfare Act.
The record-breaking penalty is the largest fine ever levied against a circus. Each violation of the AWA carries a maximum penalty of $10,000 - meaning the USDA found a minimum of 27 different violations.
February 2014: Ringling Bros. refuses to retire an elephant injured in a drive-by shooting.
Carol was shot in the neck by a drive-by shooter in Tupelo, Mississippi, in April, 2013. A popular petition calls for Ringling Bros. to allow the 39-year-old elephant to retire; the circus forces her back on the road less than a year later.
April 2014: Los Angeles bans the use of bullhooks, and Ringling Bros. says it will no longer perform in the city.
Past investigations have revealed elephants suffering from scars and open wounds after being struck with the sharp instruments.
July 2014: Ringling Bros. begins to cancel "elephant walks," which allow elephants to walk themselves from train stations to venues.
The walks are the only bit of exercise many of the animals get. Ringling Brothers say they're cancelling them because they're too difficult to organize; activists say it's because they're avoiding protesters.
December 2014: Oakland, California, unanimously bans the use of bullhooks.
Ringing Bros. says it will no longer perform in the city once the ban goes into effect.
December 2014: PETA urges the USDA to investigate Ringling Bros. after three elephants are left in boxcars for four days.
The elephants, who suffered from the lameness and chronic foot problems that circus elephants usually develop, did not receive veterinary treatment or their medication during that time.
March 5, 2015: Ringling Bros. announces the end of its elephant act.
The circus promises to retire all of its elephants from performing by 2018.
This story has been updated to include the LA bullhooks ban.