Every year, the first Saturday of September is International Vulture Awareness Day, a day highlighting the importance of vulture conservation.
In India, conservationists in the Western Ghats Region associate vultures with life, rather than death. Four species of vultures – white backed vulture, Indian vulture, red-headed vulture and Egyptian vulture – can be found in Tamil Nadu where local NGO Arulagam is working to establish a vulture safe zone, an area where no cattle carcasses have veterinary drugs that are harmful to vultures, including diclofenac.
Diclofenac has traditionally been used to treat cattle, but it causes renal failure and visceral gout in vultures, ultimately leading to their death. In 2006, diclofenac was banned, but many forest department officials and veterinarians in Tamil Nadu were unaware and continued prescribing the drug.
With support from the Critical Ecosystem Partnership Fund (CEPF), Arulagam worked with Saving Asia's Vultures from Extinction (SAVE), Care Earth Trust, Malabar Natural History Society, Tamil Nadu Forest Department, Oriental Bird Club, Royal Society for the Protection of Birds and the Government of Tamil Nadu's Hill Area Development Programme to establish a vulture safe zone in the Mysore-Nilgiri-Sathyamangalam landscape.
Arulagam also developed a long-term strategy for vulture conservation, which involves engaging vulture conservation brigades, frontline forest department staff, and local civil society groups in public outreach, monitoring and conservation activities.
Due to the project, enforcement agencies began enforcing stricter monitoring and legal action against shops selling large vials of diclofenac for human use. At the end of August, the Indian Ministry of Health announced a ban of multi-dose vials of human formulations of diclofenac, a major breakthrough in the fight to save vultures from extinction.
Arulagam's work has raised the profile of vulture conservation in a region where species conservation efforts have mainly focused on large iconic mammals, including tigers and elephants. For the first time in the conservation history of Tamil Nadu, a recovery plan for Endangered vulture species was prepared and shared with policy makers and stakeholders.
Other historic firsts that resulted from the project include:
-Vulture conservation agenda included in the management plan of Mudumalai Tiger Reserve and the Nilgiri North Forest Division -A resolution to declare diclofenac free villages and safeguard vulture populations was passed in all of the Gramasabhas (the local decision-making bodies) in Coimbatore, Erode and Nilgiri districts -All veterinarians practicing in Coimbatore, Erode and Nilgiri districts have been instructed against the misuse of diclofenac -A study on the status and distribution of the Endangered vulture species in Tamil Nadu's Nilgiri Biosphere completed -Five pairs of breeding Indian long-billed vultures recorded in Nilgiri North Forest Division -Two new breeding colonies of oriental white-backed vultures identified by vulture brigade members -Eppanadu in Nilgiri North has been declared as an important bird area by BirdLife International Landscape in Nilgiri North where a vulture nest has been spotted by the vulture brigades, volunteers who spread the word about vulture conservation and the dangers of Diclofenac. © 2015 Conservation International/photo by Mandy DeVine
A Critically Endangered Indian vulture on a cliff in Nilgiri North. © 2015 Conservation International/photo by Mandy DeVine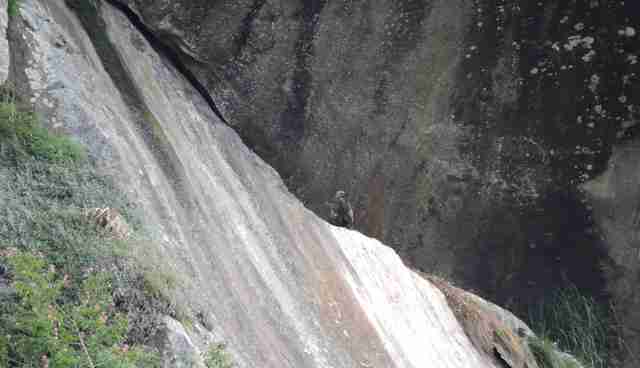 Vulture brigade members. © 2015 Conservation International/photo by Mandy DeVine
Established in 2000, the Critical Ecosystem Partnership Fund (CEPF) is a global leader in enabling civil society to participate in and influence the conservation of some of the world's most critical ecosystems. CEPF is a joint initiative of l'Agence Française de Développement (AFD), Conservation International, the Global Environment Facility (GEF), the Government of Japan, the John D. and Catherine T. MacArthur Foundation, and the World Bank.