Little Dog Feels Love In Final Days, Thanks To Ricky Gervais
With a single tweet, Ricky Gervais saved the lives of hundreds of dogs, including one young pup - named Ricky in his honor - whose health unfortunately took a turn for the worst last week.
It started back in September, when 680 dogs at a crowded shelter in Odai, Romania, were in desperate need of basic necessities such as food and bowls for water.
Lending his celebrity to the cause, Gervais helped the shelter raise about £30,000 for the dogs - the equivalent of about $45,000.
To honor the comedian for raising awareness about these dogs in need, K-9 Angels named one of the puppies after Ricky.
K-9 Angels
K-9 Angels
"With the money raised from the appeal there will now be a year's supply of food ... arranged to arrive at Odai every two weeks," Victoria Eisermann, CEO and Founder of K-9 Angels, told The Dodo.
They used the funds to buy beds, bowls and sanitizer, and to employ a full-time shelter worker for a year.
Unfortunately, a severe case of pneumonia took little Ricky's life, but, thanks to the human Gervais, she was cared for and felt love during her final days.
K-9 Rescue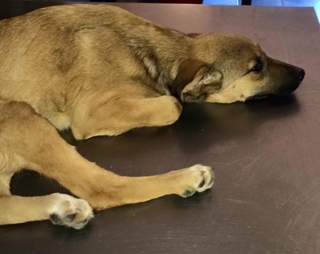 K-9 Rescue
"We are very upset, as we had high hopes for little Ricky," said Eisermann, who visited Ricky and the other dogs in Odai just a few days before the young puppy passed away.
But Eisermann isn't discouraged by little Ricky's unfortunate death, because there's still too much work to be done for the remaining 680 dogs in the shelter.
"RIP, beautiful Ricky," Eisermann said. "May your death not be in vain."
Visit K-9 Angel's fundraising page to donate to this shelter.
Below are more photos of the dogs in the Odai shelter.