Ricky Gervais: "How Weird Will We Seem To Future Generations For Enslaving Dolphins?"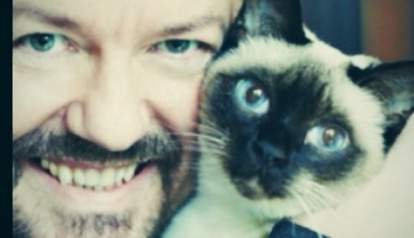 Ricky Gervais, actor and outspoken animal activist, took to Twitter yet again to voice his outrage over animal abuse.
Gervais is referring to dolphin captivity, often cited for physical and psychological damage to the animals, bullfighting, a sport that is widely agreed to be one of the cruelest practices out there, and the international trade in rhino horn, which has decimated populations of wild rhinos in recent years.
Of course, some Twitter users chose to criticize Gervais, to which he served up a decisive answer:
This isn't the first time Gervais has spoken up for animals. Just last week, he urged people to boycott marine parks like SeaWorld:
He also helps animals outside of Twitter -- the actor recently symbolically adopted a moon bear on a Chinese bear bile farm-turned-sanctuary taken over by Animals Asia.