New photos show Ricki the black bear's first real taste of freedom after spending her life in a concrete prison.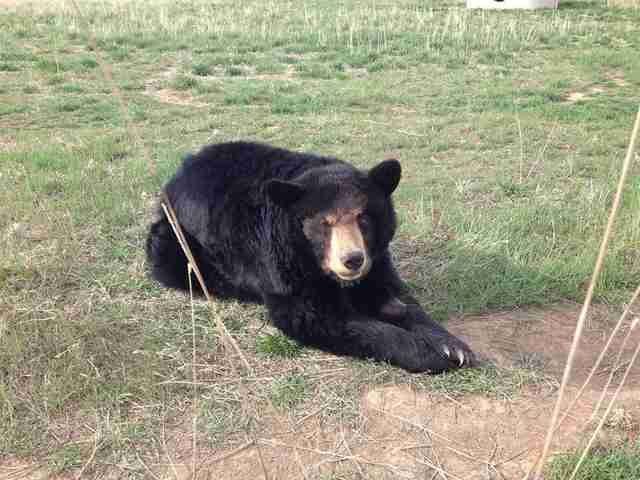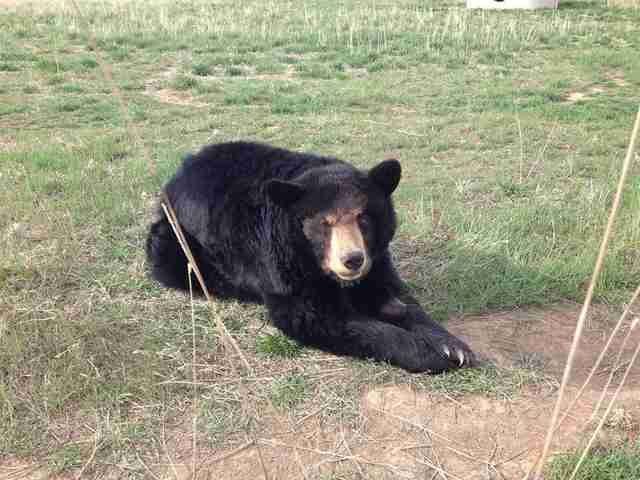 Ricki was freed in February after spending 16 years in a small wire cage outside an ice cream parlor. She lived off corn and dog food, and had no enrichment other than pacing back and forth on her cold concrete floor for nearly two decades.
She was transferred to the Wild Animal Sanctuary (WAS) in Colorado and has been hibernating in a small cage. The small space has helped her to adapt so she could feel secure in her new surroundings. She woke up last week, and is just starting to explore her expansive new home.
"Her coat looks nice and she seems very calm and happy," Pat Craig, executive director of WAS, told The Dodo. He noted that Ricki will come out for a few hours at a time to investigate her new home, then run back to the safety of her cage.
Pictures show the gorgeous bear relaxing in the middle of acres of open space, a far cry from the cramped confinement where she spent the first part of her life.
Despite the big changes she's experienced in recent months, Ricki seems utterly at peace, enjoying the wind ruffling her fur and even yawning sleepily for the camera.
"Now's when she'll actually start to change physically because she'll be getting a lot of exercise," Craig said. "She doesn't have the muscles that our bears do."
While Ricki had nowhere to exercise for nearly two decades, now she'll have open space to play in, things to climb and water to swim in.
"She was running the other day," Craig said - possibly the first time Ricki has had a chance to run since she was a baby. "That really helped her motor skills - and made her a lot more complete."
Craig said that in the next few weeks, Ricki should move entirely out of her cage and find one of the sanctuary's many dens to make her own.
In the meantime, she's busy making up for lost time. One bear named Josie visited Ricki when she was in her cage, and the pair appeared to strike up something of a friendship, though black bears are usually solitary. When Ricki finally left her cage, she appeared to seek out Josie.
"She went over and sat by the one bear [Josie] for a while and they seemed to get along," Craig said.