Richard Branson Facing Backlash Over Failure To Cut Ties With Marine Parks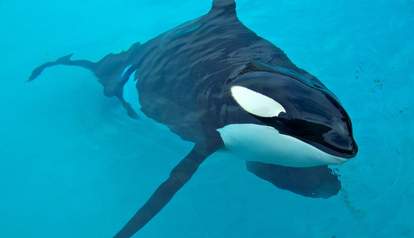 <p>Rojer/<a class="checked-link" href="https://www.flickr.com/photos/rojer/4884823771/in/photolist-8rDZVv-5dGRNz-6FabvM-8gVnQN-6RxKqn-iT4mbD-4sstge-8t92iN-bL4iwg-8rLKcd-8cUqNb-6PKe7v-75YacR-auo1S4-dhF6qB-75i7CG-83xJT9-6VzayC-5Lkqtb-5LgaX8-c9xFZG-526pnu-nQYjBF-6Dis4y-6DeiYH-6siwbr-4UpAyr-8nVhDE-nhoN5M-fzjxFL-7yUWAD-nhp3Rw-bVhPaG-bVhPp9-6gPKjU-auo1Q2-7sYN2F-bVhNEy-ovog9o-2eqLX-92jRuN-6wfZFY-5dYwtQ-4tiCSc-79U6Uv-6gKyPk-bjyd68-4GoeTm-h252u-2aoGZ">Flickr</a></p>
Entrepreneur and business magnate Richard Branson announced the result of a months-long discussion around his company, Virgin, and its ties to marine parks that keep marine mammals in captivity. Branson announced the "Virgin Pledge on sea mammals," a document for marine parks and aquariums to agree not to take or accept marine mammals caught from the wild anytime after February 2014.
(Virgin)
Virgin released a list of marine parks and aquariums that have signed the pledge here.
Virgin Holidays has been vocal about their commitment not to support wild capture of cetaceans (whales, dolphins and porpoises) since the company met with a group of conservationists, scientists, activists and aquarium and marine park representatives last February. Some conservationists have praised Virgin's attention to the topic, saying that it's a welcome step in the right direction.
But for many conservationists, including the group that met with Branson and Virgin to discuss the issue earlier this year, the announcement has fallen short of their expectations. A coalition of organizations including the Animal Welfare Institute, the Born Free Foundation, Orca Research Trust, Whale and Dolphin Conservation and the World Cetacean Alliance just released a statement.
They argue that the pledge allows marine parks to accept animals captured from the wild on a date earlier than February 2014, and that it makes no mention of ending captive breeding programs. They also note that several other companies, including Southwest Airlines, have recently cut ties with marine parks like SeaWorld over backlash.
The statement reads:
Although the pledge is a step in the right direction, we expected more from the Virgin stakeholder process, and we are calling on Virgin to return to the table to discuss key future actions including a commitment to (1) work with suppliers to end shows and captive breeding programs within a specified timeframe, (2) prohibit breeding or display as part of rescue or rehabilitation programs, and (3) help develop sanctuaries or other alternative display environments that ultimately improve the quality of life for captives that may never be returned to the wild. To truly inhibit the capture of wild cetaceans for dolphinariums, it is also imperative that Virgin refuse to do business with any facility that continues to acquire dolphins or whales from the wild or any facility that trades with companies that acquire whales or dolphins from the wild. These additional steps would move us closer to the complete cessation of the devastating capture, trade, and confinement of whales and dolphins for commercial purposes, and refocus efforts toward addressing the myriad challenging conservation issues facing whales and dolphins in the wild.
The statement cited the documentary "Blackfish," which exposed the marine mammal captivity industry and its many transgressions against animal welfare. The Dodo spoke to former SeaWorld trainer Jeffrey Ventre, who appeared in the film. Ventre said:
I'm disappointed in Sir Richard Branson for crafting an outcome that allows for business as usual with SeaWorld. The self proclaimed progressive, Branson, put on a hollow show for the masses and the end result is more profits for a corporation, SeaWorld, that makes its money on the backs of captive marine mammals, and triggered the decimation of the Southern Resident orca population. It's a shameful outcome and a missed opportunity for Virgin. I won't be flying that airline.
At the same time, a lack of reporting and transparency concerning the origin of marine mammals in many marine parks makes the pledge's foundation difficult to practice.
On his blog, writer and "Blackfish" Associate Producer Tim Zimmerman pointed out that significant loopholes in the pledge could allow marine parks to basically continue their captivity programs unheeded.
I think a fair reading of the pledge is that it could reduce demand for wild captures (and how great that reduction is will depend on how Virgin interprets the actions of marine parks according to the Pledge), but it will certainly not eliminate demand.
He also points out that the pledge doesn't extend to marine mammals besides whales and dolphins. Walruses, seals and sea lions are categorically left out.
Somehow they got dropped from the pledge, and since that is the case Virgin should stop referring to the "Virgin Pledge On Sea Mammals." It should correctly be called be the "Virgin Pledge On Some Sea Mammals (But Not All Of Them Because People Care More About Dolphins And Whales)."
Some conservationists and activists have praised Virgin for taking a step toward leadership for marine mammal tourism, and bringing stakeholders together to discuss the issue face-to-face. As the coalition statement says, more steps are needed.
We strongly urge Sir Richard Branson and Virgin be at the forefront of this change. We are ready to help.