Orphaned Rhinos Became Best Friends, And Now They Do Everything Together
Thabo and Ntombi, two orphaned rhinos, met and formed a fast friendship that has lasted years.
And their friendship even inspired a tourist with a sense of humor to get creative with Photoshop, creating an image that places the pair lounging in the sun - on chaises at the exclusive, private game reserve's Thula Thula Safari Lodge.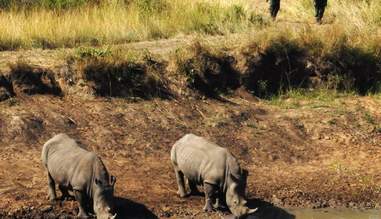 Thula Thula
"These photos were taken some years ago when Thabo and Ntombi were still young," Jojo Ellensohn of Thula Thula told The Dodo. "They have now been returned to the wild (in our reserve) where they fend for themselves and are watched over 24/7 by armed military-trained security guards!"
Wherever they are today, Thabo and Ntombi are surely together.