Rhino Sales Will Continue At Kruger National Park
In August SANParks announced a plan to relocate 500 rhinos out of Kruger for their protection. Shortly after, plans seemed to come to a halt with the controversial discovery that 260 of them were contracted to be sold to hunting outfitters. (see previous An Epic Move and Rhino Safekeeping in Question)
SANParks has just announced the sale of Kruger's rhinos will resume. According to SANParks chair Kuseni Dlamini, "relocation is the core of our approach, not only to combat poaching, but to ensure the continued growth of the rhino population."
Kuseni Dlamini, SANParks Board Chair. (Photo: Lowvelder)
The goals of the move are to remove rhino from high risk areas to keep them safe and create rhino strongholds in low or no population areas to stimulate growth. So what's different this time?
Dlamini stated to Oxpeckers,
"A due diligence process will be followed with all sales, including background checks on prospective buyers. Anyone wanting to buy more than 20 rhinos has to comply with habitat and ecological suitability and security requirements. The due diligence process includes a risk assessment to ensure the safety of the animals, and buyers will be required to present a security plan that ensures the animals' safety, as well as a conservation plan."
Rhino will be auctioned off later this year. And the money? According to SANParks, it will be put back into conservation for the rhinos.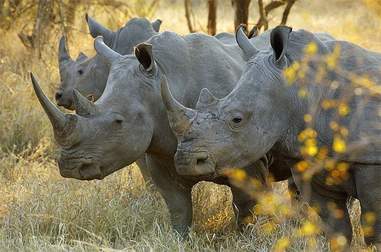 White rhinos. (Photo: Stu Porter)