Out Of Thin Air: Are South Africa's 500 Airlifted Rhinos Now Safe?
Rhinos' "safekeeping" in question
It's no secret that South African governance has been gunning for legal trade in rhino horn. This has been their agenda all along. But with the recent CITES convention, independent analysis from varying groups and global public pressure, it's looking less and less possible they will get their way. Still, rhinos continue to be slaughtered. So what options does South Africa have?
They could have stricter laws against poaching, including straight jail time with no chance at a lessened sentence or parole would be a good start. Also, prosecutors who specialize in poaching and trafficking crime who have no choice but to implement the stricter law, and a shoot-to-kill policy for their rangers, combined with immunity for those rangers put in a shooting situation.
South Africa's President Jacob Zuma could direct funding toward supplies for rangers and APUs, and work in tandem with other countries to stop the massacre. As president, he has the power to set the tone by conveying a no tolerance policy.
But instead South Africa chooses to send the rhinos away. Mr. Zuma, is it really easier to change locations for hundreds of one-ton animals instead of changing laws?
Photo: The Independent UK Still, this move could almost be applauded if they were only being moved to a country like Botswana, a country with a no-tolerance, shoot-to-kill policy against poachers, where trophy hunting is now obsolete, a place further away from the scourge of poachers thriving in Mozambique.
However, instead of losing out on the money that legal trade would've given them, they have to make it up somehow. Half of the rhinos being moved are being sold to hunting safaris. (This move, which was denied repeatedly by SANParks and Edna Molewa has been in the works since November 2013 according to Oxpeckers.)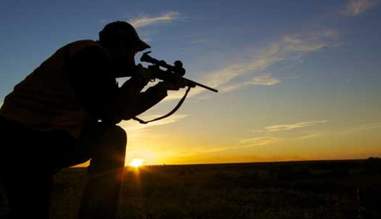 Winterhoek, Chapunga, and Steyn Safaris are the three in contract with the rhino purchases. (Photo: dreamstime.com)
Like a bad episode of Lost, the twists and turns in the rhino saga continue to respond to questions with yet more questions. The corruption and mere incompetence continue to leave the world shaking their heads and wondering at the outcome. Is there really no superpower to swoop in and save the day? Can no one step in, take the reins from these bumbling fools and say enough?
Attorney Christopher Bean, Terri Stander, Shadow Deputy Minister of Environmental Affairs, and Allison Thomson of OSCAP have requested an urgent investigation into these contracts with the hunting safaris. Hope for a more reasonable outcome lies with them.
For more on the rhino move, see SANParks Allegedly Sold Rhinos to Hunting Farms for 'Safekeeping'