Rhino Kills Doubled In Kenya, Poachers "Will Stop At Nothing"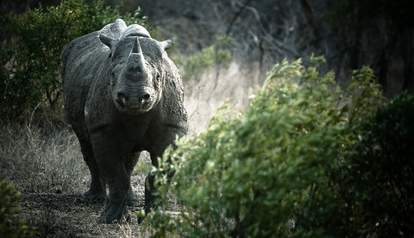 Last year, poachers in Kenya nearly doubled the number of rhinos killed for their horns in Kenya -- from 30 in 2012 to 59 in 2013. The announcement is alarming, especially because some of the killings occurred in the country's heavily guarded national park.
Kenya Wildlife Service (KWS) spokesman Paul Mbugua told AFP that "poachers have become more aggressive."
"They will stop at nothing to get their target," he said. "If you stand between them and the elephants or rhinos, they will kill you."
Poaching has been on a global rise in recent years, says AFP.
Around 1,030 rhinos are now left in Kenya, and some 38,000 elephants. Poaching has risen sharply in Africa in recent years, with rhinos and elephants particularly hard-hit. An INTERPOL report this week saying there had been record levels of global ivory seizures worldwide in 2013.
Last year's data did show a little bit of good news -- elephants killings down by about a fifth in the country, from 384 killed in 2012 to 302 last year.
Coincidentally, a new study has shown that rhinos are incredibly valuable to their local ecosystems, and maintain the savannahs in which they live by grazing on certain grass species and not others. Without rhinos, the researchers warned, the African savannah would be a very different ecosystem.
ACTION GUIDE: Wildlife Trafficking
Every year, wildlife traders reap a collective $10 billion to $20 billion in profits from poaching and trading products like rhino horn, ivory, alligator skin, tiger paws, eggs, bushmeat, live animals used as pets, and much more -- not to mention illegal live animal sales. HSI has developed this guide to help avoid buying products made from this illicit trade. Born Free USA has this helpful state-by-state guide on which animals are illegal to own (many because they are illegally obtained). For more information, or to become more involved in this issue: WWF's anti-trafficking campaigns, WildAid,Save The Rhino, and Traffic.