A century ago, more than 500,000 black rhinos roamed sub-Saharan Africa. Today, fewer than 5,000 remain. Why? Poaching, driven by the demand for rhino horn, is largely to blame.
Rhino horns - which are made of keratin, the same stuff as human fingernails - are sold primarily through black markets in China and Vietnam. Along with being a status symbol, the horns are falsely believed to possess healing properties. Partygoers grind it up then snort it, and others take it to "cure" everything from the common cold to cancer. Buyers will pay as much as $60,000 a kilogram for the powdered version, making rhino horn more expensive than cocaine, heroin, or gold.
Sales of the horns were banned in 1977 by the Convention on International Trade in Endangered Species of Wild Fauna and Flora, or CITES. Now CITES is considering reversing its stance due to pressure from groups in South Africa, which unsurprisingly include rhino farmers who argue that this radical and highly controversial move will actually help save the animals.
But reversing the ban and making rhino horn sales legal would only further destroy rhino populations, as conservation experts tell journalist Austin Merrill in an in-depth exploration of the issue for onEarth magazine.
As the story explains, here are a few of the reasons why legalization is a bad idea:
1. Demand will grow.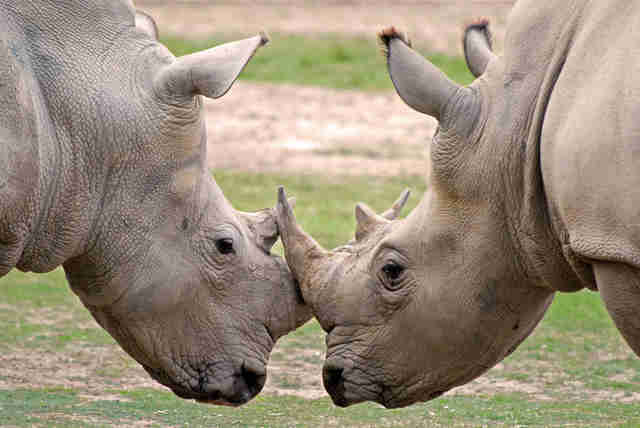 Without the penalties attached to its illegal trade, more consumers may be drawn to buying rhino horn. This would drive up prices, making poaching an even more lucrative endeavor.
"Critics compare the dangers of the rhino horn trade to the demand for elephant ivory, which jumped following the release of ivory stockpiles and led to more poaching, further threatening the elephant population," Merrill writes.
2. It's difficult to distinguish between poached and farmed horns.
"If trade were allowed, it would become much easier to buy and sell illegal rhino horn, with criminals fraudulently applying legitimate certificates to contrabands, making it difficult to distinguish one from the other," says Andrew Wetzler, director of the Land and Wildlife program at the Natural Resources Defense Council (which publishes onEarth).
Additionally, prices for some wild species, like salmon, can fetch higher prices than their farmed varieties. This could incentivize poachers to increase their efforts.
3. Legalization would place more value on horns and less on rhinos.
Reversing the ban on horn sales creates a wider separation between rhinos and their horns, which could create a dangerous precedent in legalizing the sale of animal parts as justification for species preservation.
Even if trade were legalized, it would take years for the necessary framework to be put into place, and if poaching continues to escalate at its current pace, as a nonprofit worker fighting illegal wildlife trade pointed out to Merrill, "we can kiss wild rhinos good-bye."
Next September, CITES will decide whether to lift the ban. In the meantime, rhinos may be headed toward extinction faster than any other species. By some estimates, South Africa is losing as many as three a day. In 10 years, these animals could be gone, leaving us with nothing but their horns. We need better solutions to preserve rhino populations now.
Help save wild rhinos by telling Jacob Zuma, President of South Africa, to keep the rhino horn trade illegal. Add your name here!
To find out more about the rhino horn trade legalization debate and rhino conservation efforts in South Africa, check out onEarth's story by Austin Merrill. Here, a video featured in his online dispatch: