Thanksgiving is a great reminder for us to count our blessings.
I am thankful for the opportunity to do what I can to help rhinos, and extraordinarily grateful to rangers, vet staff, advocates and rhino lovers everywhere who share the same passion.
Let us not fret over the work yet to be done, but be grateful for what we have done and the opportunity to be able to do more.
Endelea Kupigana my friends! (Keep fighting)
Gertje (Little G) and his buddy Lammie (via Hoedspruit Endangered Species Center)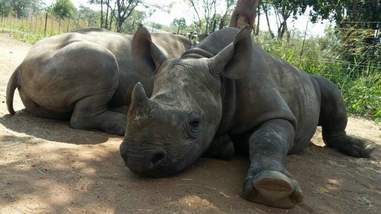 Little Shaka and Nyani napping (via the Rhino Orphanage)
Thandi via Kariega Game Reserve
Here is the latest miracle! This morning at 3:35am, Imire Rhino and Wildlife Conservation proudly announced Shanu giving birth to a healthy baby girl! This is the first birth here since their 2007 poaching tragedy.(via Imire Rhino and Wildlife Conservation)