Orphaned Rhinos Are So Excited Someone Gave Them New Blankets
She drove five hours just to get them there.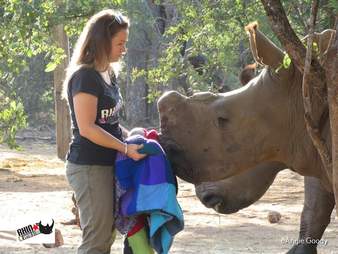 Rhino Revolution
Believe it or not, blankets play a vital role in keeping baby rhinos healthy, especially small rhinos who have been injured and traumatized after poachers killed their moms. The blankets regulate the rhinos' body temperatures, keep any wounds clean and provide comfort.
A volunteer for the group, Angie Goody, drove five hours from Pretoria and Limpopo in South Africa to personally deliver the blankets to five rhino orphans - Ringo, Ubuntu, Masingita, Chipoko and Nkonzo.
Rhino Revolution
"The babies were very interested in these blankets," Natalie Rogers, a veterinary nurse at the rhino orphanage, told The Dodo. "The new material was something new to them, and they had a huge interest in the new smells and gave them a good sniff."
Rhino Revolution
While these rhino babies clearly enjoyed receiving the gifts, the blankets aren't actually meant for them - they were produced with much smaller rhinos in mind.
"The blankets we received will be used for future neonate calves that are admitted," Rogers said. "It was an absolute delight to receive the blankets and you can rest assured they will be put to very good use with future neonate calves and carers sleeping with these young babies, bringing comfort to both. The love and attention that has gone into each and every blanket we have received is clear to see."
Rhino Revolution
That love is well and truly needed after everything the baby rhinos have been through.
"The babies who will be wrapped in these blankets are likely to have been through the worst possible trauma after losing their mothers," Rogers added. "In the war against poaching, kind gestures such as these are vital in supporting the rehabbers on the ground."
Rhino Revolution
While the rhino orphans at the sanctuary are all under a year old, they're still vulnerable to poaching. Earlier this month, armed men broke into Thula Thula Rhino Orphanage and killed two baby rhinos for their horns.
To prevent a similar tragedy from happening at Rhino Revolution, the caretakers have decided to keep even the younger rhinos dehorned.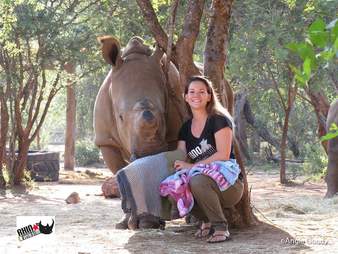 Rhino Revolution
"We dehorned all our rhinos at the facility as one of many security measures," Rogers said. "We would normally wait till our calves are weaned off milk, but with recent escalations with poachers targeting hand-reared calves, we made the decision to dehorn Nkonzo at 11 months."
Rhino Revolution
"We only removed a small amount of horn, but sadly it could tempt a poacher, so the decision was made to take that temptation away to protect them all," Rogers said.
If you'd like to make your own blanket for an orphaned rhino, you can find more information on the Blankets For Baby Rhinos Facebook page. You can also help the rhinos at Rhino Revolution by making a donation.