No one thought Titilei would ever be able to have a child.
The victim of a rare condition that wreaked havoc on her reproductive tract, the white rhino had already suffered a miscarriage. Five years ago, she pretty much had no hope of carrying out a pregnancy.
One rhino's inability to become a mother might not seem like a big deal, but because rhino populations are plummeting, every baby helps. If Titilei could breed, her rhino calf could help usher in a next generation of rhinos to help grow the ailing and dwindling rhino populations of Africa. In some places, rhino poaching has gone up 9,000 percent, and there are only about 20,000 white rhinos left in the world.
Lewa Wildlife Conservancy was determined to help Titilei. A team of its veterinarians conducted experimental surgery to help remedy Titilei's rare condition. "The whole operation was riddled with uncertainty," Lewa told The Dodo. "No one was sure what the outcome would be."
After the treatment, rangers kept close watch on Titilei, who appeared normal and healthy, but still didn't have a child. "This condition is extremely rare in white rhinos (and other mega herbivores), and the outcome of the treatment was uncertain as it is equally rarely successful," Dr. Matthew Mutinda, Lewa's vet, said.
Then, in 2013, things began to change for Titilei: Rangers spotted signs of pregnancy. "Everyone at Lewa was worried but hoped for the best," Wanjiku Kinuthia, a communications officer at Lewa, said.
Finally, in 2014, a miracle happened.
On October 2, Titilei gave birth to a healthy baby boy. "To the best of our knowledge, this is the first time that a successful case has been reported in Kenya," Dr. Mutinda said. "She has healed completely and delivered a healthy calf."
New photos taken this week show Titilei and her calf thriving.
Recent video captures the new family bouncing around in the wild together: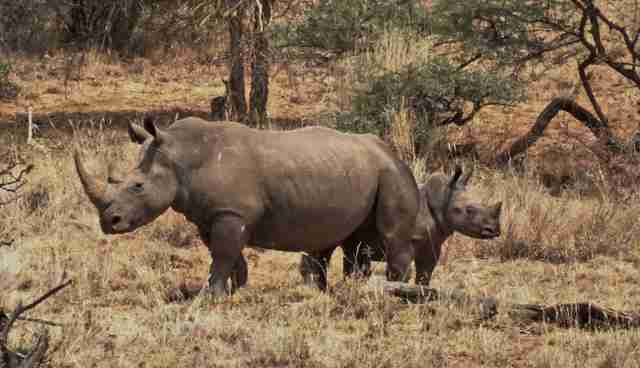 Lewa's vet team and rangers are able to take care of threatened wildlife thanks to people like you and me. Contact Lewa to find out how you can help support Titilei and her calf at info@lewa.org.