'Dog' Bought On Craigslist Found Starving In College Dorm
He's doing so much better now — and even has a girlfriend!
When Julia Di Sieno first saw Rex three months ago, she was horrified.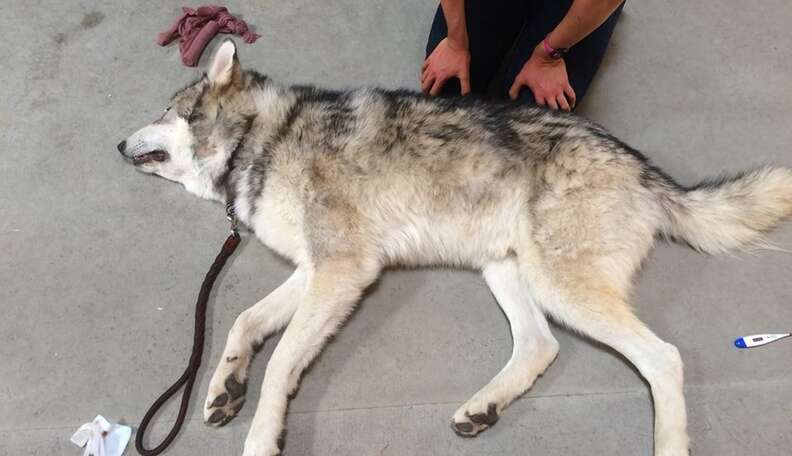 The executive director and cofounder of California's Animal Rescue Team (A.R.T.) found the "dog" living inside a cage in a college student's room in Santa Barbara.
"According to the 20-year-old that owned Rex at the time, he claims that he purchased Rex on Craigslist, which is really shady," Di Sieno told The Dodo. "You just don't advertise animals on Craigslist, ever. He was not forthcoming with any information."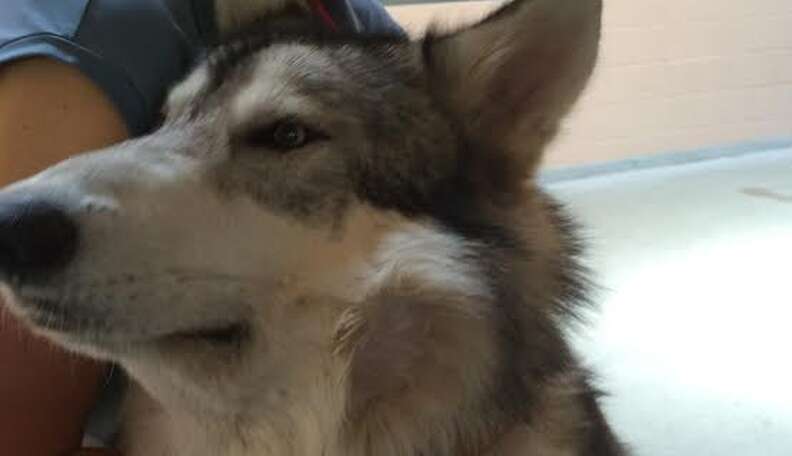 The student was purposefully eluding rescuers, who were tipped off about the "dog" living with him. However, Rex was no ordinary dog - he was a high content wolf dog, meaning that he is more wolf than dog and is physically very similar to a full wolf.
"He was neglecting the animal by keeping him in a confined, cramped crate," Di Sieno said. "The dog was only 42 pounds when his normal weight should have been 90 pounds."
Di Sieno also described him as "starving." She asked the owner's roommates to tell the owner he needed to hand over the animal.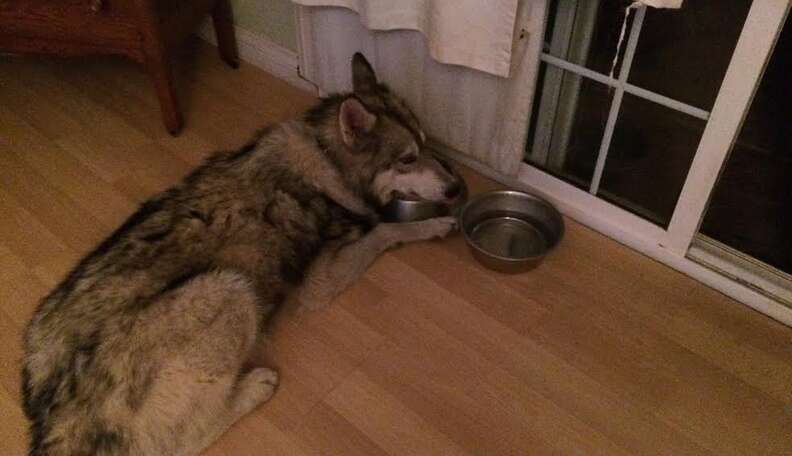 But it wasn't until after months of negotiations that Rex was finally placed in A.R.T.'s care.
Rex initially lived with Di Sieno and her two rescued wolf dogs, where he could work on gaining weight and getting back in good health.
"He immediately bonded with me," Di Sieno said. "He's very protective, but he's also just a lump love."
Di Sieno described him as one of the most incredible wolf dogs she's ever met, given his aptitude for showing affection despite coming from a neglect situation that nearly cost him his life.
Rescued wolf dogs thrive in sanctuaries, but because Rex was particularly sweet, Di Sieno wanted to give him the opportunity to find another home with owners who would be able to dedicate the space and attention to properly caring for a wolf dog.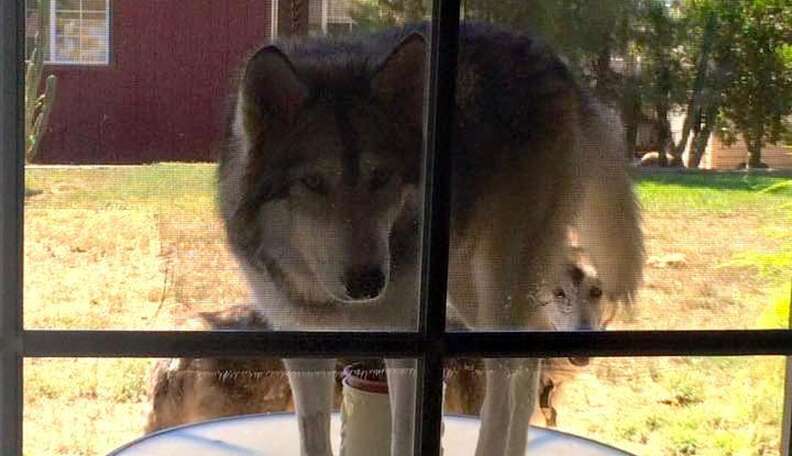 Michelle Proulx, director of animal care at Colorado's W.O.L.F. Sanctuary, told The Dodo earlier this year that most wolves and wolf dogs kept as pets typically end up dying before before the age of 2 because they get abandoned.
"The reason for that is because wolves are not dogs, and wolf dogs are not dogs," Proulx said. "People tend to give them up because they're not easy pets." This means they're hard to place in good homes, let alone in sanctuaries that are already filled with other abandoned or surrendered wolf dogs.
The first family who adopted Rex returned him to A.R.T. 12 hours later when they realized he wasn't a perfect fit. From there, the rescue scrambled to place Rex in a new home - and then the best family came to meet Rex.
The family and their 6-year-old dog, Lucy, another large breed, spent an entire day getting to know the wolf dog before deciding to take him home.
"It was love at first site for Rex," A.R.T. wrote on Facebook. "Lucy played hard to get at first."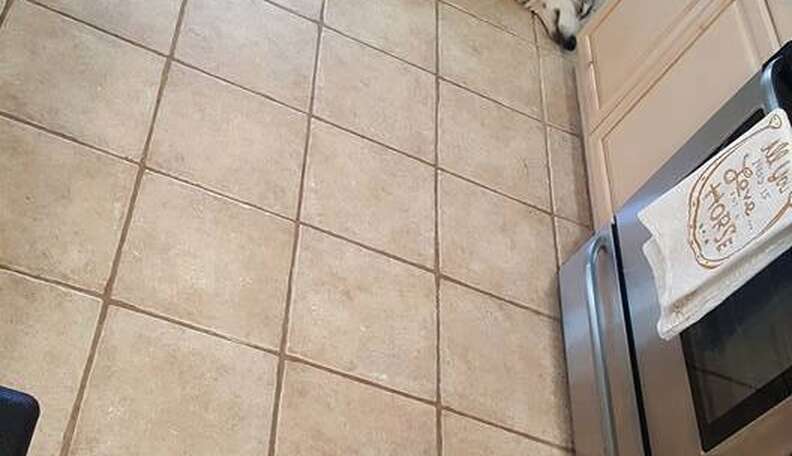 Now the two continue to get along extremely well in Rex's new home, which boasts not only a large property where he's able to run around as he pleases with his girlfriend, but other animals, like horses, whom Rex loves to be around as well.
"He is in the best possible home we could have ever begged God for," A.R.T. wrote on Facebook.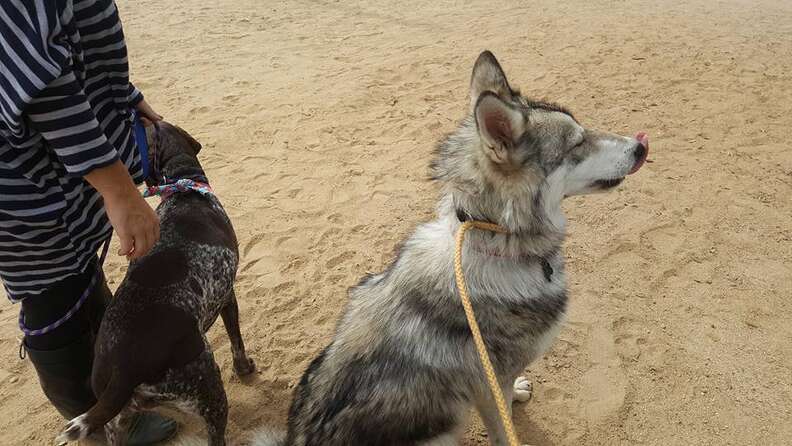 Want to help Animal Rescue Team continue doing good work? See how you can make a contribution here.
Watch this video to see how wolves like to party at birthday celebrations: