It's already a well-known fact that primates are capable of learning sign language -- but who needs human sign language when you have your own?
Findings of a recent study on Ugandan chimpanzees have resulted in a detailed dictionary of intra-species chimp communication, in the form of sign language.
The chimps were filmed between 2007 and 2009, and over 66 different gestures were recorded by the researchers. This is remarkable, as the evidence indicates that chimpanzees use physical gestures as means of communicating in a "flexible, goal-oriented, and intentional fashion, replicated across all great ape species in captivity and chimpanzees in the wild."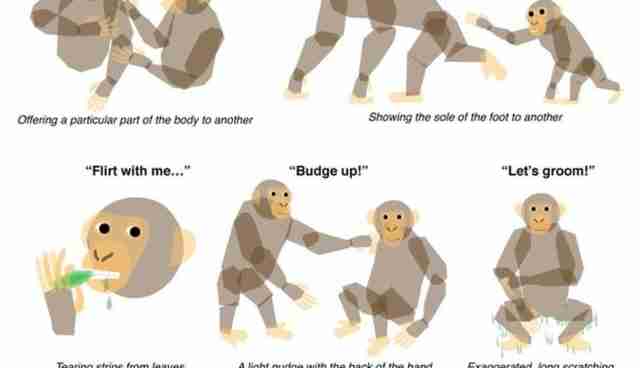 Surprisingly, this is the first study to actually focus on the relationship between the primate gestures and their outcomes, and is the first case where researchers have actually been able to associate specific meanings with the physical movements.
Some of the gestures are clearly unambiguous, researchers says, with certain gestures consistently eliciting the same response (for example, leaf-nibbling is a consistent request for sexual advances). However, there are some gestures, such as grabbing, which seem to have more than one specific meaning.
Though this study is a step in the right direction, there are some experts who are disappointed in the findings. Dr. Susanne Shultz, an evolutionary biologist from the University of Manchester, says that "the vagueness of the gesture meanings suggest either that the chimps have little to communicate, or we are still missing a lot of the information contained in their gestures and actions."
That said, these findings are a remarkable breakthrough in terms of chronicling forms of communication in the animal kingdom -- particularly as they relate to humans."The big message [from this study] is that there is another species out there that is meaningful in its communication, so that's not unique to humans," lead researcher Catherine Hobaiter told BBC News. "That's what's so amazing about chimp gestures. They're the only thing that looks like human language in that respect."