Nearly two whole days after becoming stranded on a beach in Queensland, Australia, a male juvenile humpback whale is once again swimming back in the open ocean -- thanks to the tireless work of volunteers who refused to stand by and watch him die.
When the young humpback, weighing an estimated 20 tons, first became stranded on Palm Beach on Tuesday, crowds gathered in vain to return it to sea. The next day, environmental officials and staffers from a local marine park, Sea World joined in the effort, only to end their rescue attempt at sundown, focusing instead on keeping the whale's skin hydrated.
Later that evening, a group of concerned locals returned to the beach, but again failed to move the massive animal.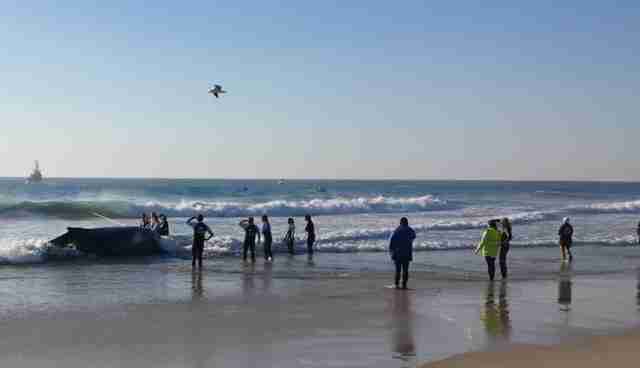 On Thursday morning, rescuers finally achieved success. After tying a rope around the stranded whale, a boat was used to gently pull it out past the surf where it began to swim towards deeper waters.
Crowds cheered as they watched the exhausted animal return to sea, but whale scientist Sean Samar, who was on hand for the rescue, is only cautiously optimistic that the humpback won't try to strand again.
"I don't think the odds are with it to be honest," he told ABC News. "But I will have my fingers crossed because I have seen miracles happen before."
The dramatic, hard-fought rescue comes just a day after another distressed humpback whale was freed from a tangle of fishing gear off the coast in New South Wales, Australia.