Rescued Dog Was So Weak He Lay Down In His Food Bowl To Eat
He'd been living off cabbage after his owner died.
After a man in South Africa passed away, his family struggled to feed the greyhounds he had used for hunting - all 64 of them.
Since the family had no reliable income, the situation grew quickly desperate. The dogs were being fed cooked cabbage and were slowly wasting away.
By the time Greyhound Rescue South Africa was called for help, earlier this month, some of the dogs had already died.
The family started to cooperate with rescuers, who collaborated with Community Led Animal Welfare (CLAW), a partner of the International Fund for Animal Welfare (IFAW), to take a first group of 11 surrendered greyhounds to the CLAW sanctuary for help.
"In South Africa greyhounds are used for hunting and poaching," Sheena Dale, an IFAW project manager at CLAW, told The Dodo. Even though there are laws against using dogs for hunting, they are rarely enforced, and it harms not only the dogs but also populations of South Africa's wildlife, like foxes and porcupines.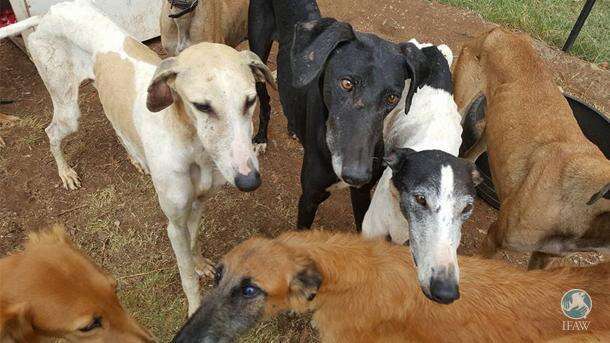 "Looking at the scars covering their bodies, in particular 'Whip Girl,' it is believed they had been beaten off their prey more than once," Dale said.
The dogs suffered from sores and malnutrition. Some had tumors and some had eye problems. One dog had to be rushed to the veterinary hospital to have her eye removed.
Because the dogs were terribly thin, a handyman who lives on CLAW's property made sure that the starving dogs got small meals all evening during their first night at the shelter, to help them slowly expand their shrunken stomachs.
One dog, so weak and tired, lay down in the food bowl as he was eating.
And it was also important for the animals to rest. "We piled all the kennels high with soft blankets and, very quickly, each kennel had a long snout and even longer legs poking out of their entrances," Taren Welthagen, director of CLAW, wrote.
In the next few days the family agreed to surrender five more dogs, and rescuers set to work finding foster homes and permanent homes for the 16 dogs.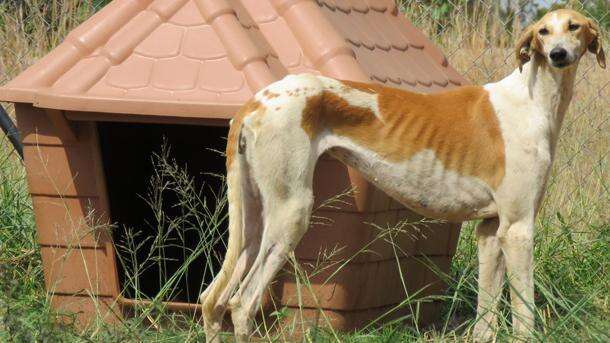 Just a few weeks later, 11 dogs have already grown healthy enough to be placed in foster or permanent homes. Remaining dogs who need homes include Gary, Prince, Whip Girl, Scaredy Girl and a black and white dog who doesn't have a name yet.
"Many of the fosterers are falling in love and we get regular updates that they will be keeping their greyhound permanently," Dale said. "There is still a great deal of interest surrounding the greyhounds and they should all find loving, caring homes."