Cody the cat was rescued from the streets of León, Spain, as a lonely, orphaned kitten in February 2015.
"From the first moment he arrived at the sanctuary, he began to purr and [didn't] stop," María Casquero Rodríguez, a staffer at the Leon Vegano Animal Sanctuary, told The Dodo. Casquero translated Cody's story as told to her by the sanctuary's founders and Cody's primary caretakers, Evelyn Gutierrez and Diango Casabella.
It soon became very obvious to staffers at the sanctuary that Cody, who was just 6 months old at the time, was also very ill. As a result, he had to be hospitalized until veterinarians could figure out what was making him so weak.
He was eventually diagnosed with feline herpesvirus and liver shunt disease - a disorder that prevents Cody's liver from properly detoxifying his blood, allowing toxins to build up in his system.
"Every minute, he shows us that he wants to live," the sanctuary wrote on its Facebook page. "Nobody clings to life like he does."
Thanks to treatments to help manage his illnesses, Cody began to recover.
But months later, he began to suffer from various other health scares - each new one always bringing him to the verge of death.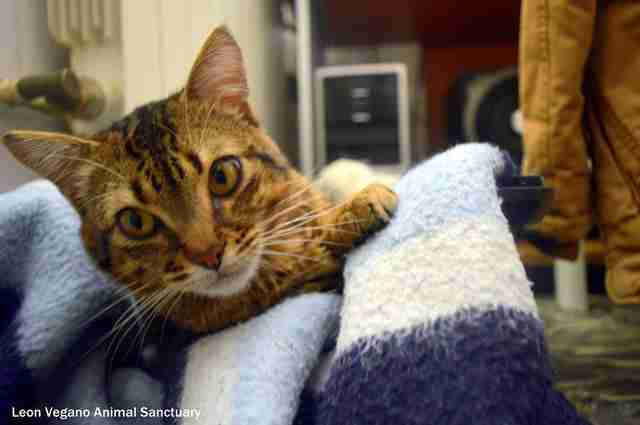 But today, Cody lives and continues to fight against whatever new issues come his way. It's a battle he'll be fighting for the rest of his life.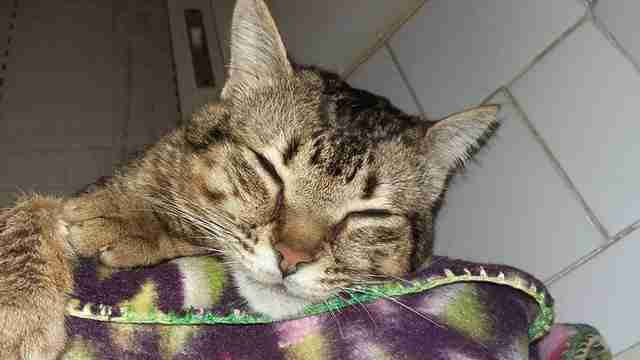 But with the proper amount of love and attentive care, Cody has also transformed from being a fearful kitten who was afraid of noises into a less anxious and more confident cat.
"Despite everything that he has suffered, Cody is a very loving cat who gets along with all the animals in the sanctuary," Casquero said.
"He also cares for the sick animals and the newly rescued, giving them much affection," she said.
Cody instinctively knew Pituso needed a friend, and was often seen by his side, cuddling close to the lamb to give him both comfort and much-needed company.
This past February when Diango, a chicken at the sanctuary, returned from a surgery to repair a broken bone, Cody was immediately by his side to provide recovery support.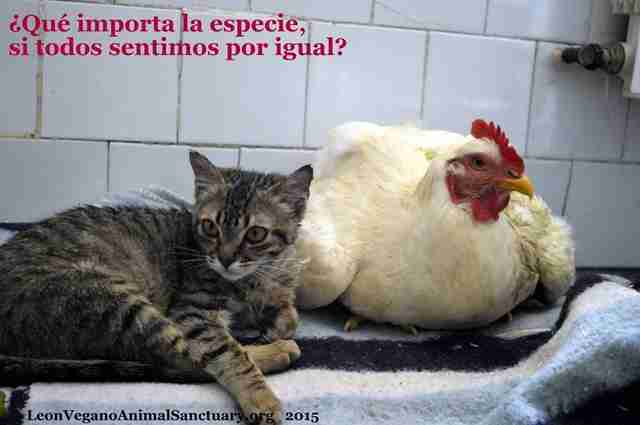 Then there was baby Iker. The young goat had been abused and arrived at the sanctuary last year with a broken leg. As soon as Cody met him, the two were inseparable, and Cody's favorite pastime was to shower Iker in warm kisses.
Cody adored Iker so much, he gave up sleeping in his own bed for awhile just to make certain he could remain by the goat's side for as long as was needed.
When Cody isn't closely watching over an animal in need, he can usually be found playing around with the chickens or staying up all night by a window to watch over the nocturnal animals at the sanctuary.
Cody has also learned to be excited whenever a trip to the vet's office comes up - a good thing since it comes with having a lifelong illness.
He also can't get enough of one particular food item: bread. "It is an obsession for him," Casquero said.
Cody recently had to visit the vet's to resolve an issue with high ammonia levels in his blood - but as always, Cody handled the good fight with grace and is back home at the sanctuary. After all, he has a very important job to do as the chief cat nurse.
"Cody just loves to love," Casquero said. "To love everyone and be loved by everyone."
Want to help Leon Vegano Animal Sanctuary continue doing good work for animals in need? Consider making a donation here.
Watch this video about a cat who nursed orphaned squirrels as her own: