Here Are 7 Shelter Dogs Who Got Their Fairy-Tale Endings
They went from death row to families who love them.
What do shelter dogs dream about? Is it the family they lost and the lives they once lived? Or, do they dare dream of a future beyond those four walls? Grassy fields and beaches and people who love them unconditionally?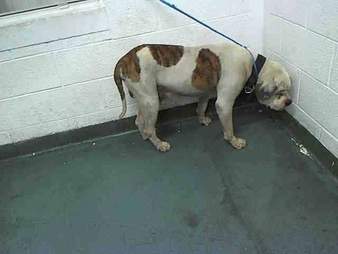 Dog Tales Rescue and Sanctuary
Sadly, we will never know. So many abandoned dogs never emerge from shelters, their dreams disappearing along with them. But we do know there is no dog like a shelter dog when it comes to seizing second chances. And running with them.
These are just a few of the dogs who once faced an anonymous ending at a public shelter - and are now living the dream.
Harriet was just a face in the crowd
Last spring, Fulton County Animal Services, a bustling shelter in Georgia, was facing a crisis. Too many surrendered pets. Not enough adoptions. The shelter was overwhelmed and many of the dogs needed medical attention.
"The staff were desperate for help," Clare Forndran, of Dog Tales Rescue and Sanctuary, tells The Dodo. "And we agreed to take a group of their most senior dogs that would be least likely to find homes.
"All of the dogs from this pull were in particularly rough shape."
Among them? An 11-year-old Chihuahua named Harriet.
Dog Tales Rescue and Sanctuary
Senior dogs are never easy to find a home for - many families look for the shiny newness of youth. But at Dog Tales, this old dog found her feet. Then she found a forever family.
Dog Tales Rescue and Sanctuary
They still send Dog Tales postcards from her new life.
Dog Tales Rescue and Sanctuary
"It warms our hearts to see Harriet looking so happy, content, and, most importantly, loved," Forndran says.
Zoe beat death row - then she beat cancer
The walls started closing in on Zoe when she was just 2-years old. Dumped at one of America's busiest shelters, it wasn't long before this Rhodesian ridgeback found herself on death row. But when a team from Dog Tales visited Miami-Dade Animal Services last fall, she caught their eye. Then she caught the biggest break of her life. She was among several dogs the group pulled from death row and took home to Canada.
Dog Tales Rescue and Sanctuary
Not long after that came another break: a forever family. But then, it seemed, cruel fate was finished with Zoe. She was diagnosed with cancer.
"Her family and our entire team were devastated," Forndran says. But, unlike the circumstances that led her to death row at the Miami shelter, Zoe wouldn't face this fight alone. Her family stuck with her throughout the ordeal.
Dog Tales Rescue and Sanctuary
Today her cancer is in remission.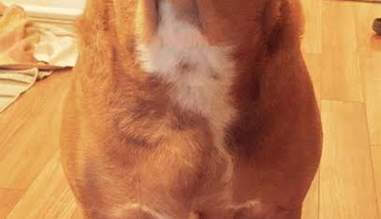 Dog Tales Rescue and Sanctuary
"We're convinced that this would not have been possible without the unconditional love and care that her family provides her with each and every day," Forndran notes. "They have given her a reason to live. We believe that they were meant to come into Zoe's life, and she theirs."
Dog Tales Rescue and Sanctuary
Lina was the strongest, fastest dog no one could see
It didn't matter how strong Lina was, how many beats per second her tail could whir or how fast she could run. Three-legged dogs don't get very far at the shelter. In fact, Lina had landed squarely on the kill list at Miami-Dade.
It seemed no one would see the staggering strength that coursed from her heart to her tail.
Until Dog Tales took her off that list. At the Canadian sanctuary, the 3-year-old American bulldog mix found her death sentence commuted to life in a kennel. Even at Dog Tales, she was passed over. Three legs. Zero interest.
Then the humans Lina had been waiting all her life for visited the sanctuary.
"It was love at first sight," Forndran says.
Lina went home with her new family and soon after that, her life took an epic turn.
"We have been able to visit with Lina many times since her adoption, and she is thriving in her new home," Forndran says. "She has a permanent smile on her face."
Dalyah was living someone else's nightmare
When Dalyah first arrived from Israel, she wasn't into hugs. Or meeting new people at all. Maybe that's because she had spent her life more as a thing than a dog. She was rescued from an extreme hoarding situation.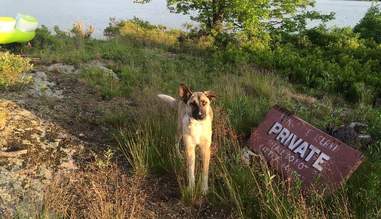 Dog Tales Rescue and Sanctuary
Airlifted to Canada, it took time for Dalyah to open up. Her future suddenly seemed limitless. And when a family adopted her, so too did the size of her heart.
As for those hugs, it turned out Dalyah was just waiting for the right people.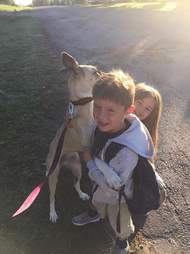 Dog Tales Rescue and Sanctuary
"She even hugs her brother and sister when they come home from school," Forndran says.
Hope was living in mud up to her ankles
It wasn't just mud that Hope had to wade in every day at an overwhelmed animal shelter in Israel. But the rats who circled like vultures.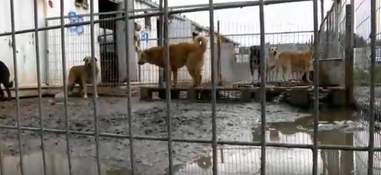 Dog Tales Rescue and Sanctuary
True to her name, Hope never gave up. In fact, the 9-year-old Labrador mix greeted her rescuers with her trademark sweetness.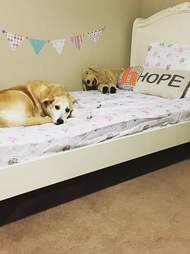 Dog Tales Rescue and Sanctuary
"It is incredibly emotional for us to think of the conditions that Hope came from," Forndran says.
Back in Canada, Hope waited months for a family to notice her. But that's all right - she knew what it was like to wait.
Besides, when a family finally did fall in love with Hope, it turned out to be more than worth every minute.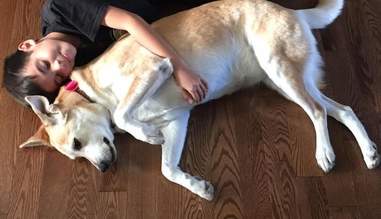 Dog Tales Rescue and Sanctuary
Jake was terrified of the ground beneath his feet
Hard floors filled Jake with such terror, he couldn't take a single, trembling step on them. At 10 years old, he had been surrendered directly to the Dog Tales shelter. Sweet and gentle, it seemed he would have no trouble finding a forever home. But it was clear Jake had serious baggage. Like an inexplicable fear of hard floors.
Dog Tales Rescue and Sanctuary
What family would be able to deal with a dog who couldn't walk on hard floors?
It turned out to be the kind of family who loved Jake so much, they were willing to put soft foam tiles on all of their hardwood.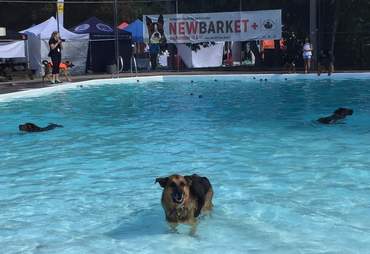 Dog Tales Rescue and Sanctuary
Today, the only terror in Jake's life is the kind he dishes out to neighborhood children in his trademark shark costume.
Dog Tales Rescue and Sanctuary
Lucas never had a home to begin with
It's a very rare shelter dog who never lost anything. That's because Lucas was likely born into his nightmare - a dilapidated shelter in Israel.
Dog Tales Rescue and Sanctuary
As you might imagine, Lucas came to Canada with few expectations. Fewer dreams. And some demons.
He was afraid of so many things. It didn't stop a family from falling in love the moment they met him.
Dog Tales Rescue and Sanctuary
"They were determined to make him a part of their family," Forndran says.
Dog Tales Rescue and Sanctuary
And in the days ahead, Lucas found his footing, not only with his new family, but with a best friend, a sheltie named Georgia.
Dog Tales Rescue and Sanctuary
Of course, Dog Tales isn't the only rescue group hauling abandoned pets out of shelters and giving them a chance to shine. Countless volunteers and organizations visit shelters every day. On threadbare budgets, they brave heartbreak to bring hope to the seemingly hopeless.
Dog Tales Rescue and Sanctuary
If you've ever wondered what a shelter dog dreams about, just ask him to show you.
Consider taking one home today through Adopt-a-Pet.com.
And if you would like to support Dog Tales in its mission to save countless more animals, you can make a donation here.