Wild Porcupine Brings His Babies To Meet The Woman Who Saved Him
"It was pure magic."
When Erika De Jager released a porcupine named Hermanus back into the wild, she didn't expect to see him again. He had just finished rehabilitation at Zuri Orphanage in Namibia, and had been carried far away from the rescue center into the wild.
"It was a sad day," De Jager told The Dodo. "We hoped he'd be okay."
Two days later, a little black nose poked out from beneath a red storage container at De Jager's house. Hermanus had found his way back!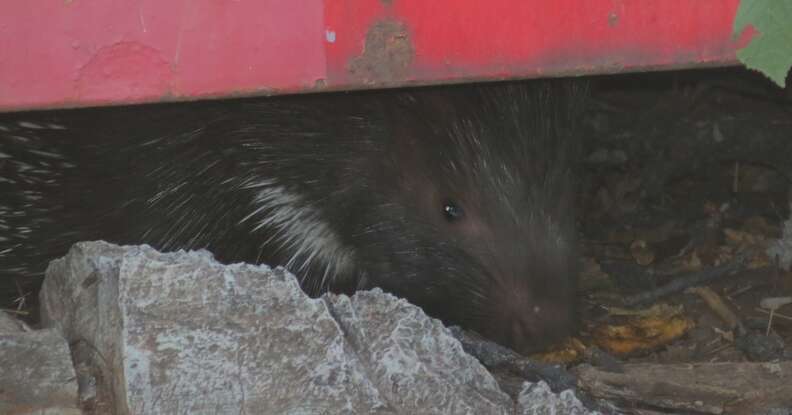 Four months prior, Hermanus was a 1-month-old baby clinging to the body of his dead mother on a farm near Tsumeb, Namibia. While it's not clear what happened to the mom, it's possible she died because she didn't have enough food to eat. Tsumeb had been going through a terrible drought.
The farm owner who found Hermanus contacted De Jager, a veterinarian who runs Zuri Orphanage from her home, and she went to collect him. "He was very small and we kept him in a budgie cage," De Jager said. "He drank milk from a hamster feeder."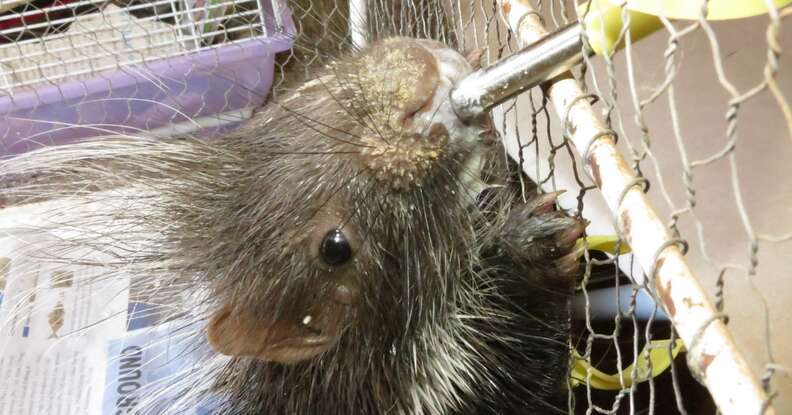 At first De Jager kept Hermanus outside, but her rescued dogs insisted on trying to babysit...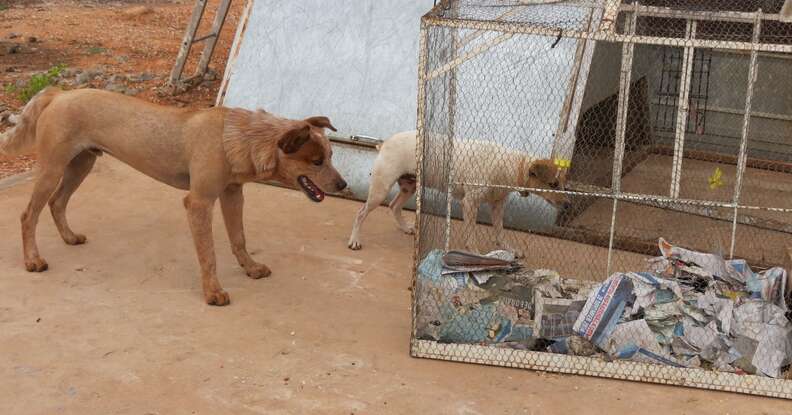 ... until her dog Dexter got a couple quills in his chin. Dexter didn't seem too upset though.
De Jager moved Hermanus inside her house for a little while, but she knew he needed to be out in nature, so she and the orphanage workers built Hermanus a special outdoor enclosure. They laid bricks around it so the dogs couldn't get too close.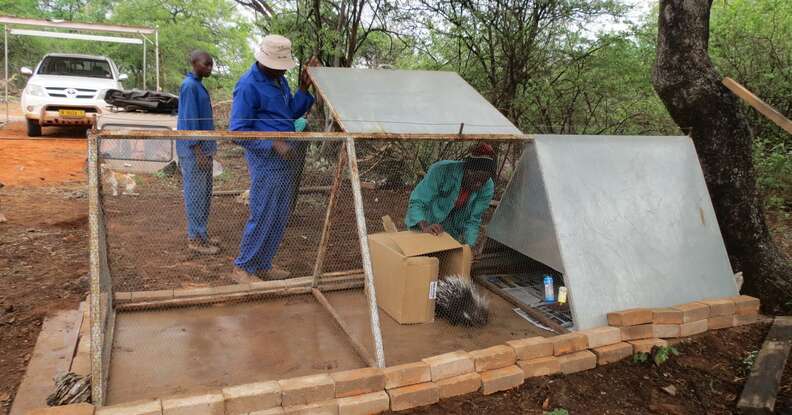 Over the next few months, Hermanus got bigger and stronger, and De Jager eventually decided it was time for him to be released. Little did she know how often she'd see Hermanus again.
After his initial release, Hermanus started returning to De Jager's house every single night.
"He's here every evening," De Jager said. "He'll climb the stairs, and we'll sit on the [porch] and he'll be eating around us. Sometimes after I've gone to bed I'll hear him and will watch him from the bedroom."
While it's generally not advisable to feed wildlife, De Jager has continued to feed Hermanus since he was been hand-raised and is partially reliant on people; since the region continues to face a draught, it's also extra hard for him to find food on his own.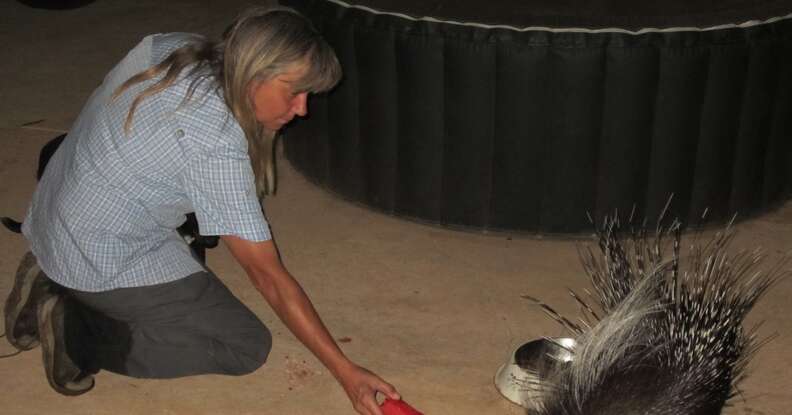 At first, De Jager laid out fresh vegetables like corn and carrots, but Hermanus was more interested in the dry dog food. "Hermanus eats very neatly," she said. "Kibble by kibble."
A few months later, Hermanus returned with a surprise - he had a mate with him.
But that wasn't the biggest news.
Hiding in the grass behind them was a baby porcupine - not a newborn, but an older baby of about three or four months.
"It was pure magic," De Jager said. "We couldn't believe it at first."
Then, a couple months later, three porcupines became five. "In July, we saw two tiny babies, as well as the older baby," De Jager said.
The family of five has never stopped visiting the orphanage. They might skip one or two nights, but De Jager sees them nearly every night. "They're extremely tame," De Jager said. "They have quite an attitude because they seem to think they own the place. What's interesting is that they often steal some of the food bowls and disappear with them into their den. I have not found their den yet."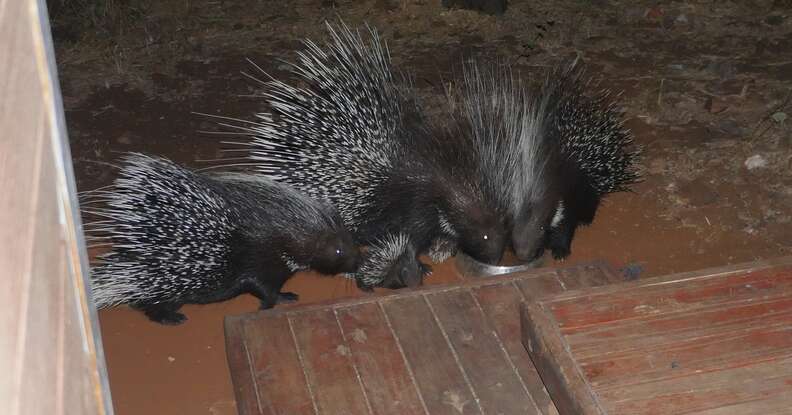 Sometimes the little ones even fall asleep during their visits. "They're completely relaxed around the house, and to me it's very good that they can relax so much that they fall asleep," De Jager says. "I've never seen this before but have watched them now many times and one of them will be resting while the others are eating."
De Jager loves their visits, and she can't help feeling like a proud grandmother. "The fact that he reproduced and brought his family home is significant for me," De Jager says. "The first sign that any animal is well adapted to his environment is when they reproduce. I think Hermanus is a success story as far as rehabilitation back into the wild goes."
To help Hermanus and his family - as well as the many other orphaned African animals Zuri Orphanage cares for - you can make a donation here.