Rescued Pit Bull Is SO Happy To Run Around Without Her Muzzle
Three times the dog was adopted from the shelter, and three times she was returned. The first time was for chewing things, the second for growling at another dog and the third time for being too physically strong for the owner to manage.
The dog - named Zara - was 7 years old when she was most recently returned to the shelter in Hathern, England, where she had lived for 18 months at that point. The staff thought they'd need to euthanize her - they just didn't think it was fair to leave Zara in a kennel indefinitely.
Around the same time, veterinarian Emma Hindson began to volunteer at the shelter as a weekend dog walker. Knowing Hindson liked dealing with "difficult" dogs, the shelter staff asked if she'd walk Zara. "Zara was friendly," Hindson tells The Dodo. "She just wanted to jump onto my knee for cuddles and lick me to death."
After many weekend walks, Hindson decided to take Zara home with her, thinking that maybe she'd foster her, or keep the dog on a trial basis. But it didn't take long for Hindson to realize that Zara wasn't going anywhere. "From the day she entered the house, she settled," Hindson recalls. "We went for a long walk, had a bath and then she came in and went to sleep sitting next to me on the sofa. She just adapted instantly, as if she had just been waiting for a sofa of her own."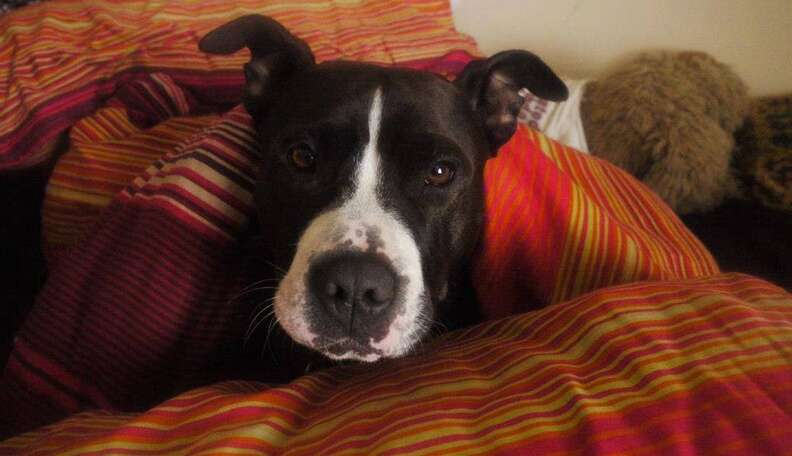 For Hindson, Zara was the perfect dog - she had boundless energy, which fit well with Hindson's active lifestyle. And Zara clearly adored Hindson, always wanting to be at her side, and greeting her with licks and tail wags when Hindson got home from work.
But then, life got tricky for Zara and Hindson.
Hindson had started to train Zara at a doggy agility center - an activity Zara adored. A new staff member at the center approached Hindson, and said she thought Zara might be part pit bull terrier, which is a banned breed in the U.K., as well as in some parts of the U.S. that have passed breed-specific legislation (BSL).
If you own a banned breed in the U.K., the police or local dog warden can take your dog away on the spot, even if your animal isn't acting dangerously. If the matter goes to court, you have to prove your dog isn't a banned breed, or get a large fine or be sent to prison for six months. The dog could be destroyed. Other banned breeds in the U.K. include the Japanese Tosa, Dogo Argentino and Fila Braziliero, all blocky-headed types.
Hindson was distressed. What if Zara was taken away from her? What if she was put to sleep? She also worried Zara would go into a police kennel if she was seized. "She'd spent such a long time at the shelter previously," Hindson says.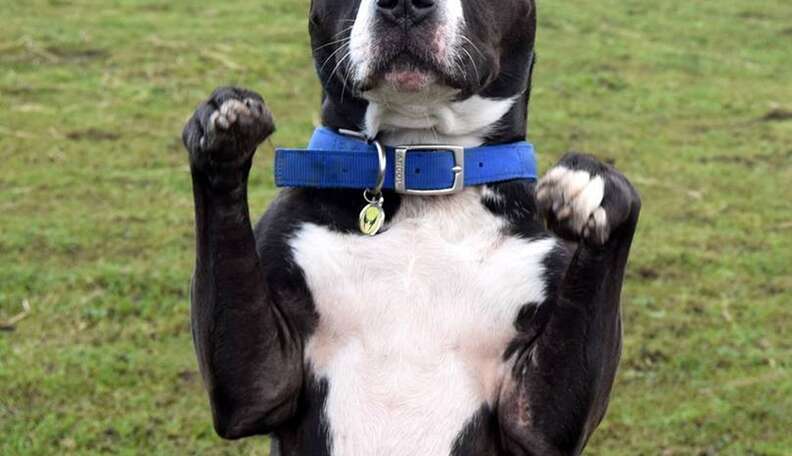 The only hope Zara had was to get an official exemption, which can be granted if officials believe the dog isn't a danger to the public.
Wanting to do everything correctly, Hindson arranged to see a dog liaison officer (DLO) to get Zara assessed. "There was a list of about 50 characteristics of which they have to fit a 'substantial' number," Hindson explains. "Things like the length of the dog's back-to-height ratio; shape of the head, tail and rib cage; length and proportions of legs; coat type and so on."
After a thorough assessment, the DLO determined that Zara was indeed a pit bull. "I could have contested his opinion," Hindson says, "but Zara would have been held in police kennels where I would have had no access for an indefinite period of time. I decided to have her exempted without contesting, as I agreed that she did fit enough of the characteristics. This way, she stayed with me until the day of the court case, then spent 24 hours in police kennels before being returned sporting her tattooed number on her inside thigh."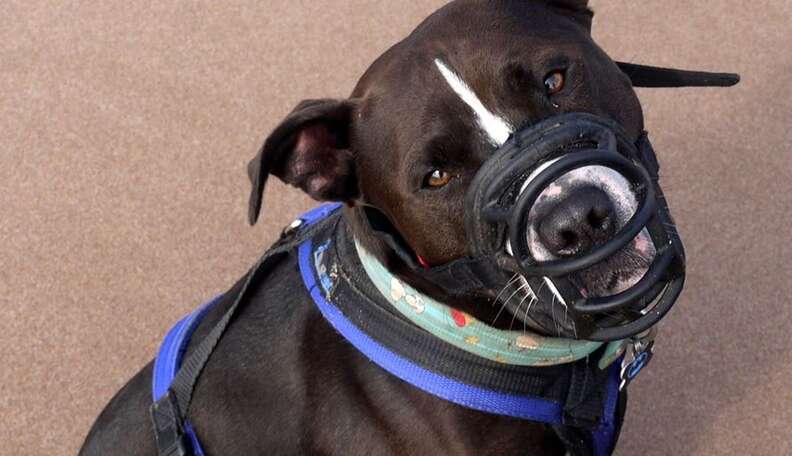 Zara now has to wear a muzzle and be on a leash anytime she's in a public place, including vehicles. "It makes day-to-day life very difficult," Hindon says. "She can't play with the toys she loves because of her muzzle, and she can't play with other dogs as they get tangled in her leash. I also can't relax because I need to make sure we are always following the rules. One small mistake could mean she's put to sleep."
While Zara seems happy enough with her muzzle and leash, Hindson knew her energetic doggy would get frustrated with so many limitations.
When Hindson started looking for a new house, she searched for a place with a big garden or a field for Zara to run around in.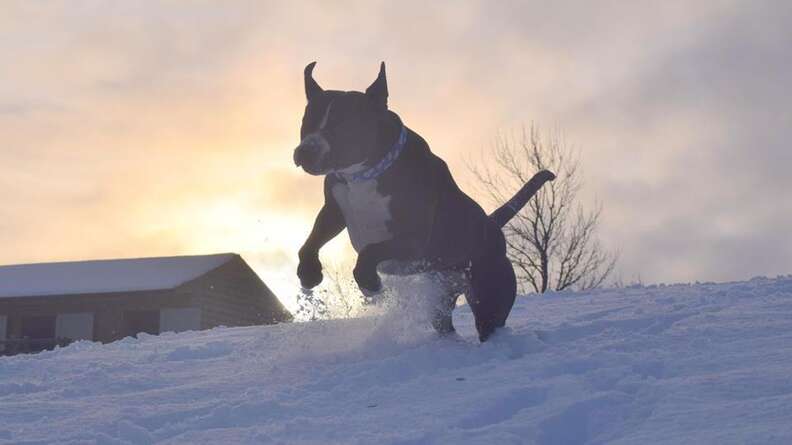 As luck would have it, Hindson found the perfect rural property with a large fenced-in field adjacent to the house. Here, in this field, Zara could run around without her muzzle and leash.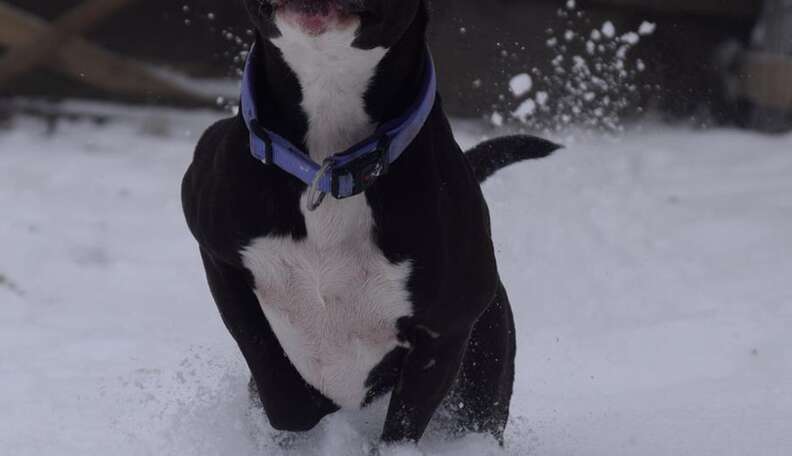 "She loves to run and she will do just that - run and run 'round the field, up and down, playing with toys, or things she can pretend are toys," Hindson says. "She now has a little brother, Wilf, who also joins in the madness."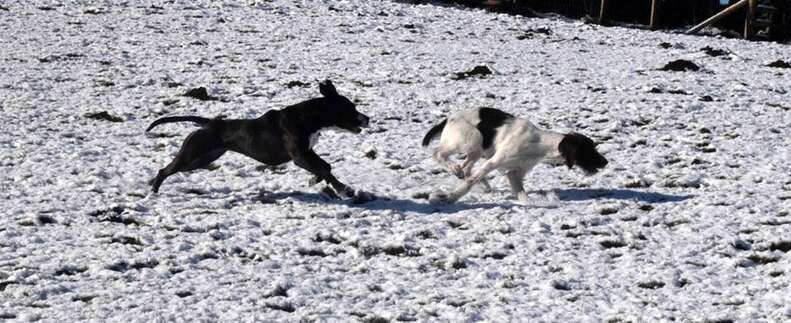 "On a work day, Zara spends about 40 minutes to an hour in the field," she says. "But on the weekend, if I'm doing stuff with the horses, she can be in there running and playing for hours."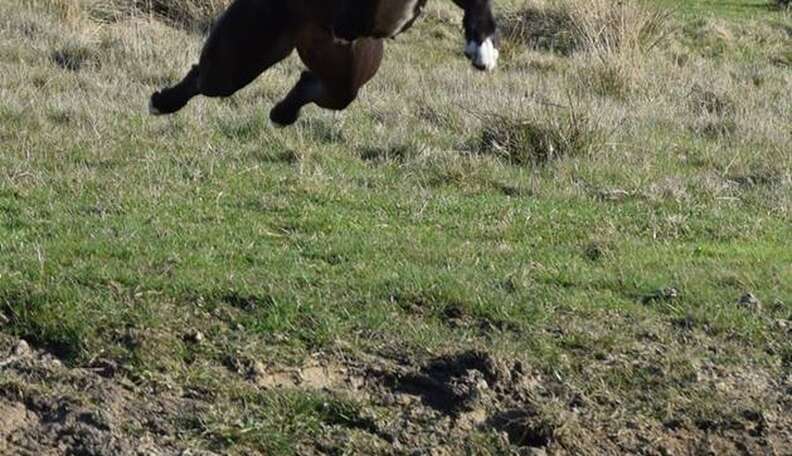 Zara looked so happy bounding around her new yard, in fact, that her photos won the "happiest hound" prize in the RSPCA's Ruffs Alternative Dog Show. "I thought it was great that a competition was designed for dogs who may be overlooked in other shows for various reasons," says Hindson, "and focused on them being happy and healthy, rather than solely on their appearance."
Prize or not, Zara is certainly one happy hound, and she'll be bounding around her field for many joyous years ahead.