Rescued Pit Bull Found Cowering In The Brush Finds Happy Ending — With Adorable Twist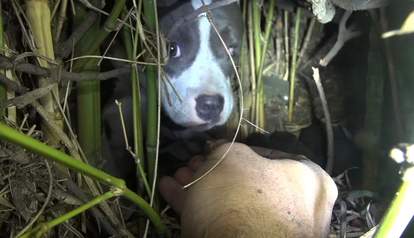 When Hope for Paws received a call about an injured homeless dog who was living in some bushes next to a busy highway, rescuers Eldad Hagar and Lisa Chiarelli leapt into action. The dog apparently only came out at night to forage for sustenance, but remained in hiding during the day.
Hagar and Chiarelli found the pit bull, whom they named Iris, crouched in her small hovel underneath some hedges. The rescuers were in for a surprise, however - they found that Iris was not alone.
Beneath her was a squirmy pile of newborn puppies!
The rescuers slowly gained Iris' trust and lured her out of her den so they could gather her puppies. Her left eye was badly injured from what was likely blunt-force trauma abuse. Despite the harrowing circumstances, Iris was very sweet with her rescuers.
The three puppies, dubbed Seth, Nathaniel and Meg, were pulled from their burrow while mom Iris stood nearby and supervised.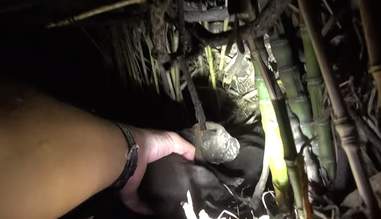 The whole family was taken to The Dog Rescuers center, where they are recovering comfortably and are up for adoption. Veronica Ferrantelli writes on the Dog Rescuers Facebook page:
"My wish is to find a family that will adopt Mama (Iris) and one of the pups together, because she is such a great Mama. The babies are eating hard food and I will always find Mama playing with them, chewing on them, letting them still suckle, taking naps with them - She is having a blast with her children and the babies are thriving because of it. She truly is the best Mama I have ever had."
Mom and pups seem pretty happy to be on their way to a new and happier life.
You can watch the full video of the rescue below:
If you notice a dog who is in need of rescue, do not attempt to approach the animal yourself. Instead call a rescue organization who knows how to properly handle and care for the dog. You can find a list of such organizations here.