Rescued Piglets Taking A Three-Legged Pit Bull For A Walk Will Brighten Your Day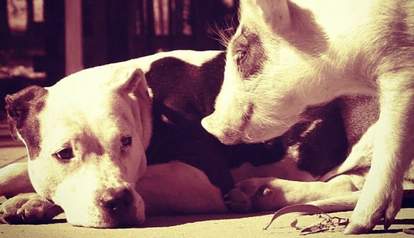 <p> <a href="http://www.firstsparkmedia.net/" target="_blank">Keegan Kuhn</a><br> </p>
Rescued piglets Ivan and Mishka were purchased to be a part of a petting zoo as an attraction at a Halloween pumpkin patch. After the holiday season was over the owners of the business, with no more use for these two, had plans to send them back to an auction to be sold for slaughter. A compassionate volunteer who couldn't stand by while these social and trusting individuals were sent off to be killed, intervened and the brothers now live together at their forever home Animal Place, a sanctuary for farmed animals.
When they first arrived at Animal Place the youngsters were introduced to our rescued three-legged pit bull Bella. Being known for her maternal & gentle demeanor, she spent the first few weeks watching over the piglets while they adjusted to their new life and keeping them company while they foraged in the pasture and relaxed in the sun.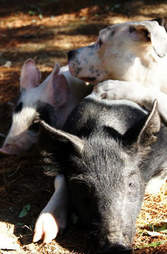 One evening when we were putting the piglets to bed, cuteness ensued. See for yourself!