Stray Pig Covered In Scars Falls In Love With Man Who Rescued Her
She even makes him tuck her into bed every night.
Alesja Daehnrich doesn't know what it is about her husband, Alex, that made their rescue pig, Holly, fall madly in love with him. From the moment they met, Holly has wanted everything to do with Alex, and nothing to do with Alesja.
"She was sweet with me but seemed to trust Alex more," Alesja, the cofounder of Blind Spot Sanctuary, a North Carolina animal haven where Holly currently lives, told The Dodo. "They have a bond like I've never seen before."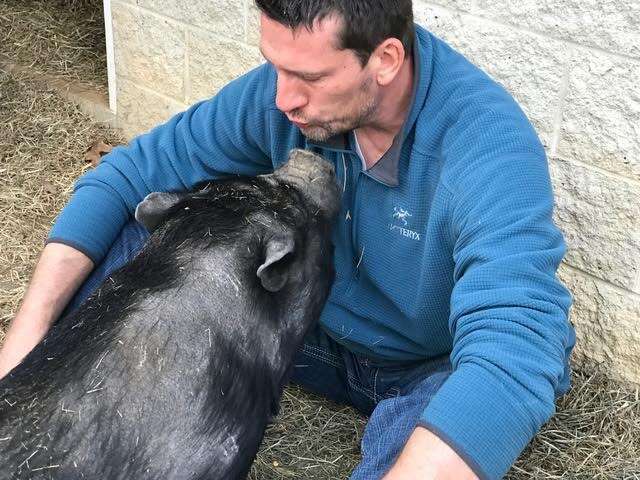 The day after Christmas, Dr. Laureen Bartfield, a veterinarian and good friend of the Daehnrichs, had found Holly wandering along the road on her farm. Bartfield used a muffin to coax her onto a horse trailer, and move Holly to safety.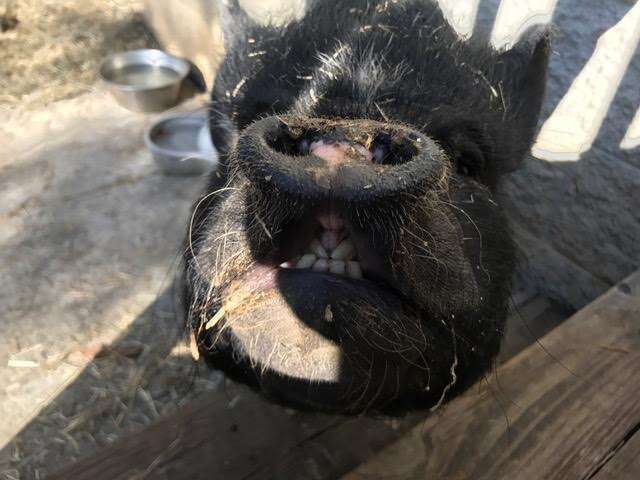 While no one really knows where Holly came from, the 5-year-old potbellied pig had obviously been through hell - scars and burns covered her skinny body, and she was missing a lot of hair.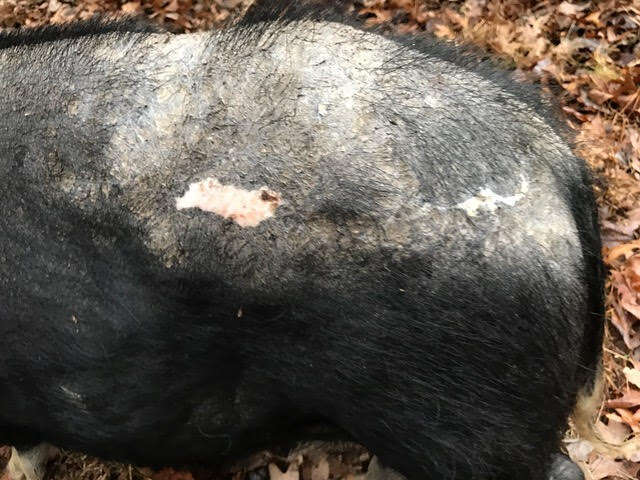 "Her life prior to rescue must have been horrific," Alesja said. "She must have been straying for a while as well as her feet were cut. She had some open and infected wounds which indicated dog bites."
The next day, Bartfield contacted Alesja and Alex and asked if Holly could stay at their sanctuary. The couple quickly agreed (although they originally intended to just foster Holly), and they went to the farm to pick Holly up.
After everything Holly had been through, Alesja expected Holly to be a bit skittish, but she immediately took to Alex.
"She didn't come to me or Dr. Bartfield, but went straight for Alex, which was so unusual as pigs are hesitant with new people," Alesja said. "She came up to him and laid down for a belly rub. It was very strange but also melted our hearts. Alex was scratching her belly and she was just very content as if she has known him forever."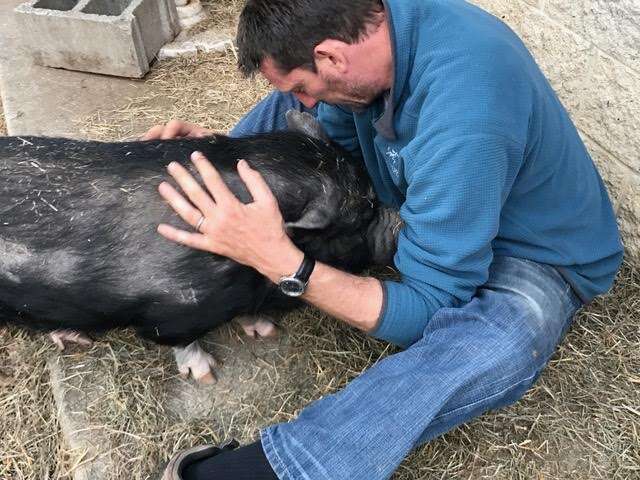 Back at the sanctuary, Holly and Alex's bond grew even stronger. Holly followed Alex everywhere that first day.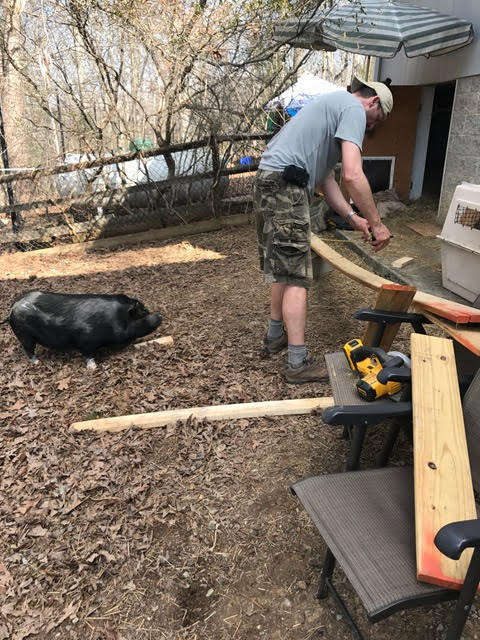 But when it was time for bed, Holly wouldn't go into the special enclosure the Daehnrichs had prepared for her.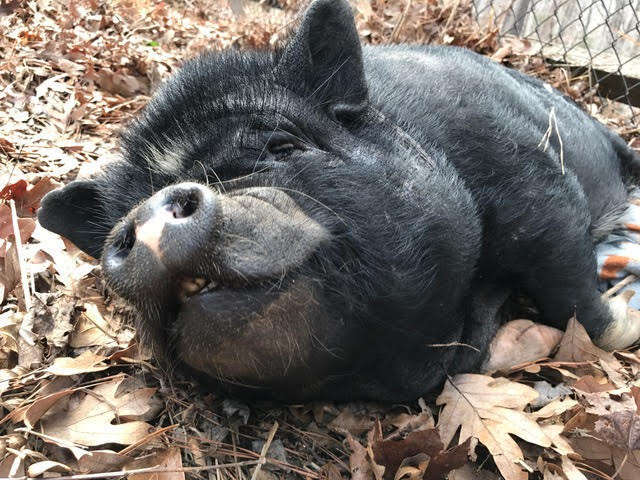 "She clearly has been an outside pig," Alesja said. "As it started to get towards the evening, she made herself a bed out of cold and wet leaves outside."
Alesja put a blanket over Holly, but still couldn't get her to go inside her little house.
But Alex was able to.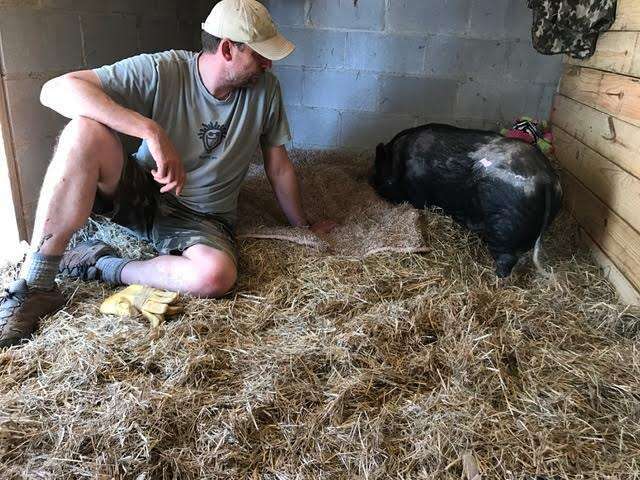 "Alex coaxed her inside the warm enclosure and spent almost all evening there with her rubbing her belly, giving her treats and just being there for her," Alesja said. "She eventually fell asleep and we were able to leave her for the night. We even left a light on in case she got confused about where she was at night."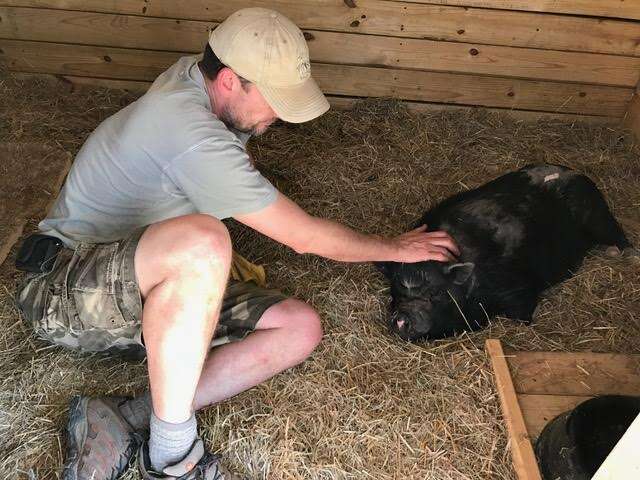 Now it's become a habit. Holly waits for Alex to tuck her into bed each and every night.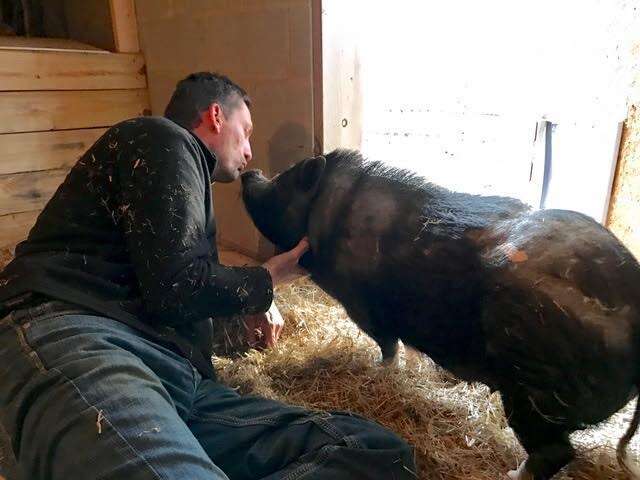 "She comes up on the porch and waits for him," Alesja said. "If I come, she ignores me and keeps staring at the door. When Alex comes, she follows him down and they go into her house and Alex rubs her belly. She eventually starts getting ready for bed and Alex puts a blanket over her."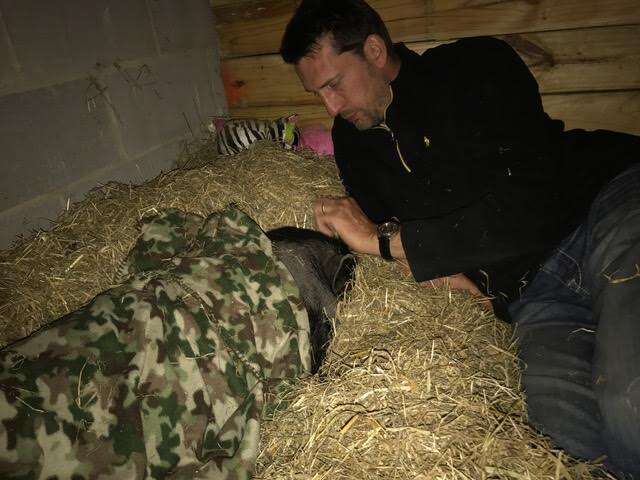 "This is not a short routine - it does take a while," she added.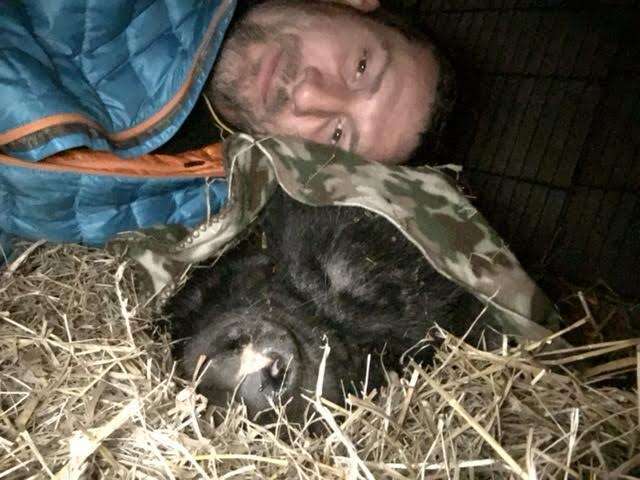 Holly loves her bedtime routine so much, she gets grumpy when Alex isn't around.
"One night Alex wasn't able to bring her to bed and I had to," Alesja said. "Holly was making the funniest grumpy noises. It was very cold that night, therefore, along with heat, we had lots of hay for her to bury herself into. Without wanting any belly rubs, she just dove into the hay while still making complaining noises. As Alex came home, he still went to check on her and of course, put a blanket over this pile of hay ... which Holly was inside [of].
Though Holly clearly prefers Alex, Alesja doesn't mind at all - she loves how bonded they are.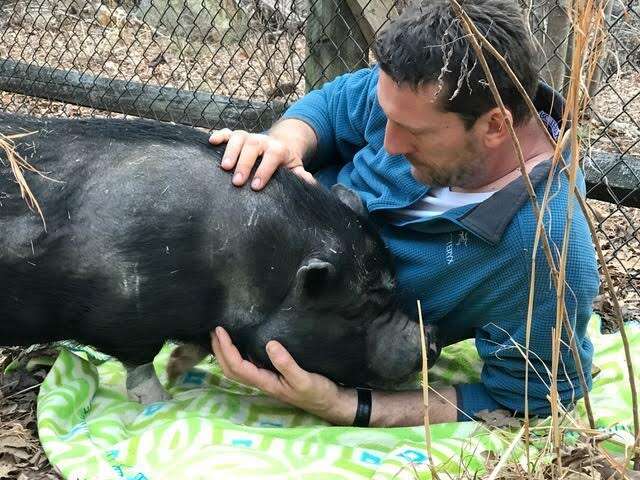 "It almost feels like they 'get' each other," Alesja said. "Perhaps there was a man who once was nice to her in the past. Usually when we get new animals, he is the one who spends a lot of time with them, so they can get adjusted faster and feel safe. He is often just sitting there and allowing them decide when it's time to communicate and make contact. Maybe that contributes, as there is no pressure."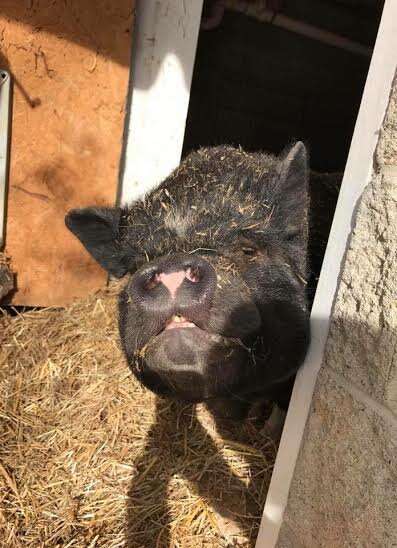 "Normally, as animals recover, we try to find them a loving home, but in this case we realized Holly found her forever home," Alesja said. "She adores Alex so much that we could never separate them."
Holly has lived at Blind Spot Sanctuary for several months now, and her health and well-being continues to improve.
"Some of the bald spots on her body are now slowly being covered with hair again," Alesja said. "She seems to have more energy and, most importantly, she is enjoying life. You can just tell by looking into her eyes that she is happy."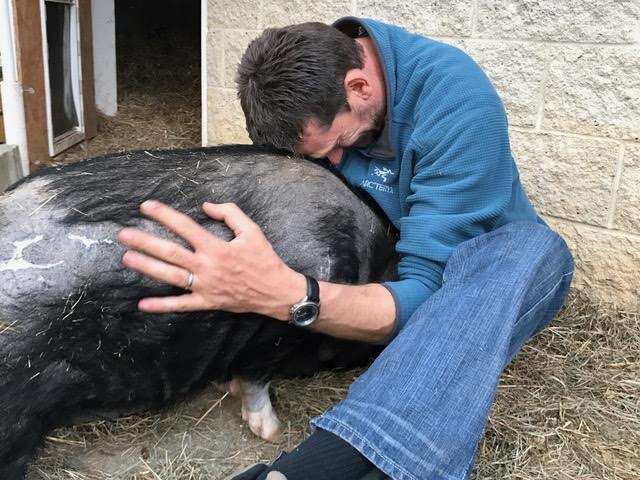 "She is spending her time snoozing in the sun, having a safe and warm house, she gets visitors quite often, and she has her favorite person who she lights up for every time she sees him," Alesja added. "I sometimes joke and say maybe they want to move in together."
To support Holly - and the other pigs, horses, mules, peacocks, ducks, goats and chickens who call Blind Spot Sanctuary home - you can make a donation.