Rescued Parrot Loves His New Life (And His New Friends)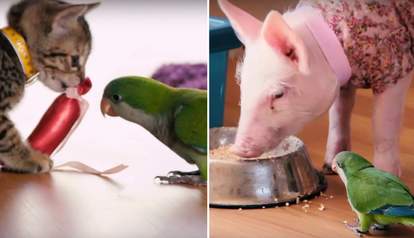 <p><a href="https://www.facebook.com/santuarioigualdadinterespecie/timeline">SANTUARIO IGUALDAD INTERESPECIE</a><span></span></p>
To see Pepe now, you'd never guess what a sad past he had - and he's got some unlikely friends to thank for that.
The playful green parrot is one of the newest arrivals to Santuario Igualdad Interespecie (Interspecies Equality Sanctuary), a safe haven for animals in Santiago, Chile. He was rescued last month after he was found wandering, disoriented and alone, on a road in the center of town.
"Pepe was stressed and depressed. He had it very bad," his rescuers wrote on Facebook. "But those days are behind Him already: now he not only lives easy, he's made some new friends to play, share and pamper."
Pepe's new friends aren't just anyone, however; they're Laura and Marina - a rescued piglet and kitten who are already best buds.
The sanctuary recently shared the most adorable video clip of Pepe enjoying quality time with his interspecies companions. Clearly, he's having the time of his life.
Although the sanctuary is primarily a refuge for rescued farm animals, it's there that Pepe has found his place.
"We do not know much about these birds," his rescuers write. "But what we do know is that the world for Pepe is different today because he has a family that will care for the rest of his life and help him find happiness."