The lion was tethered to a wooden shack with a 3-foot metal chain. Not only did the chain prevent the lion from moving around, it also rubbed against the lion's neck, causing his mane to disappear. He was so emaciated, you could count the bones in his ribcage.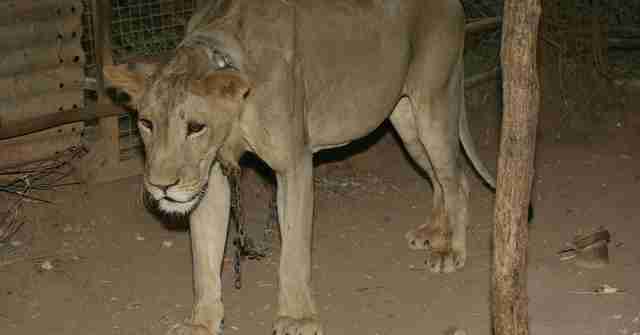 He stayed like that for four long years.
The lion - named Dolo by his rescuers - lived in captivity on a private residence in southern Ethiopia, near the Somali border. While it's unclear exactly why or how Dolo came to reside here, Victoria Lockwood, PR officer for Born Free Foundation, believes Dolo's owner captured him when he was just a cub, and kept the lion on his property as a kind of status symbol.
Whatever the case, what the owner did was illegal.
"It's illegal in Ethiopia to keep wild animals as pets," Beth Brooks, press officer for Born Free, told The Dodo. "So when the Ethiopian Wildlife Conservation Authority (EWCA) were alerted to his plight they undertook to confiscate him. However ... there were no funds and no facility in Ethiopia to offer him a new home."
This is when Born Free stepped in to help. Working with the EWCA, the team moved Dolo to a temporary enclosure in Awash National Park in Ethiopia. According to Brooks, Dolo's health immediately improved. "He became more alert," Brooks said. "He could at last have good food and medical treatment."
However, the veterinary team had some bad news: Dolo had a problem with his eyes. "Dolo has retinal atrophy, probably due to a nutritional deficiency when [he was] young and this has left him with very limited vision," Laura Gosset, programs officer for Born Free, told The Dodo. "He would therefore take longer to get used to his new environment; a space far bigger and more complex and stimulating than anything he has experienced before."
Even with his bad eyesight, Dolo's life went from good to better. In March 2011, Dolo was moved to his permanent home at Ensessakotteh, Born Free's 190-acre rescue center outside Ethiopia's capital city, Addis Ababa. Since Dolo had spent four years in captivity, he wouldn't be able to be released into the wild, so keeping him at Ensessakotteh was the best solution for him.
The process of getting Dolo onto the transport truck and moving him to Ensessakotteh was anything but straightforward. "The team stretchered him out, pushed the stretcher through the crate, put it down, rolled him off, got the stretcher out, the back door was closed and finally the front doors could be dropped and bolted in position," Gosset said. "The crate was then winched onto the truck and they hit the road."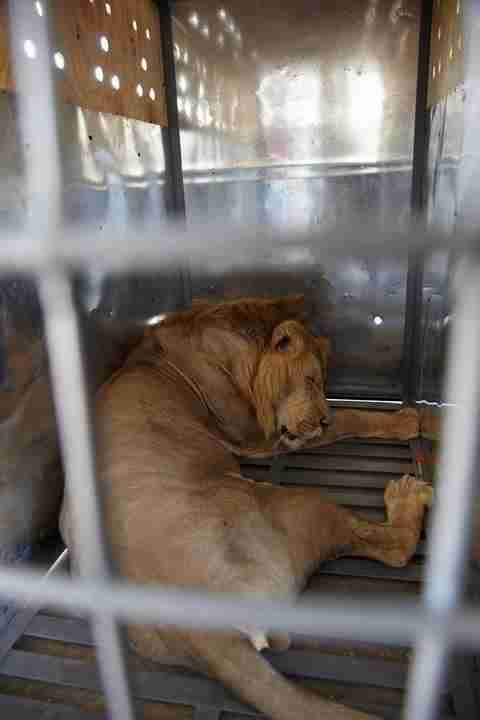 After a long, arduous journey through towns and villages, and through Addis Abada's heavy traffic, Dolo finally arrived at Ensessakotteh. The truck reversed up to Dolo's shelter, and his crate was winched to the ground.
"Unsurprisingly Dolo didn't come bounding out," Gosset said. "He didn't want to leave his box and roared his displeasure. That [roar] was unexpected, deafening and more than a little bit frightening, but after an extended pause he sauntered out into his new home."
Dolo quickly got used to his new life at Ensessakotteh, according to Brooks. His favorite activities are exploring the bushes and trees in his enclosure, snoozing in shady spots when it's hot, and basking in the warm sun when it's cool. These are things Dolo could never do when he was tethered to a shack with a 3-foot chain.
A few months after Dolo arrived at the refuge, he was introduced to Safia, a lioness rescued from similar circumstances as Dolo. When they first met, they actually didn't get along, and there was a lot of snarling and growling between the two of them. But they soon grew to love each other. "Dolo is not as active as his companion Safia but he enjoys basking in the warm sun or sleeping in the shade in the company of the feisty Safia," Brooks said.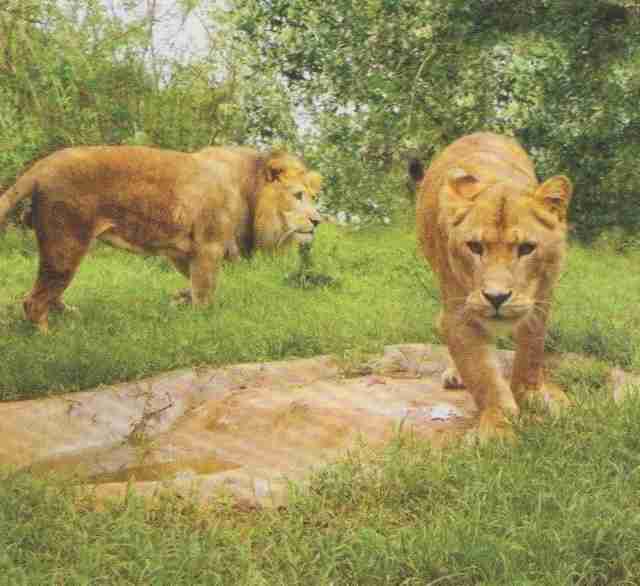 "Dolo has always been a favourite for everyone at Born Free," Brooks added. "His tragic start to life acts as a stark reminder, everyday, of what an impact we can have on the lives of the animals in our care."
To Dolo and other rescued lions like him, you can make a donation to Born Free here.