Rescued Kitten Who Lost His Leg Gets Colorful Little Cast
Rocky, a small kitten, was covered in fleas and dirt. He was tangled in the rope used to tie down the tarp of a boat.
His family was nowhere in sight. Unable to move, Rocky may have been on his own for hours or even days.
And so, Rocky cried. He wailed loudly enough to capture the attention of the homeowner whose boat he was anchored to. From there, a vet technician from Bideawee, a New York–based animal welfare organization, was called in to pick up Rocky and give him the affection and gentle care he needed.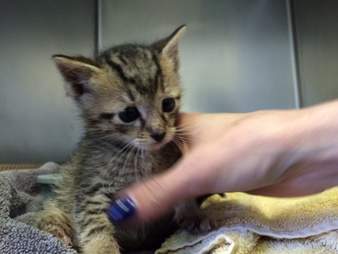 Bideawee
"From the moment that Laura [the vet technician] began combing the fleas out of his matted fur, he purred emphatically as though he was in a state of complete bliss," Bidawee wrote on its website.
Unfortunately, one of Rocky's front paws was so mangled from being caught in the rope that it had to be amputated.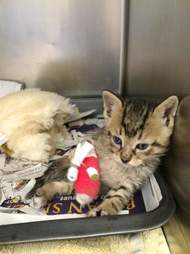 Bideawee
Currently, Rocky is recovering from the procedure with his tiny cast, and is gearing up to learn how to live life with three legs. He walks with a little limp now, according to Melissa Treuman, director of brand communications at Bideawee, told The Dodo.
Bideawee
One day soon, he'll be ready to find his forever home and no matter what challenges he has to face with his new life, Rocky's already proven that he has what it takes to overcome.
"Rocky is every bit the fighter that his name suggests," Bidawee wrote.
Bideawee