Donkey Who Nearly Died In Flood Breaks Into A Grin When He's Rescued
He was struggling in rising floodwaters, but some people weren't going to let him die.
"Code red. Today's emergency. Please help me." This is how it started, with a desperate Facebook post by Ireland's Animal Heaven Animal Rescue (AHAR) on Sunday.
Along with the post begging for help was a video of a donkey, hopelessly stranded in rising floodwaters. "There is a donkey stranded in deep flooding in Kilorglin. I need a boat and men to help."
The donkey's owner originally sounded the alarm about his lost donkey, and AHAR was quick to organize a rescue.
And luckily the code red Facebook post brought Mike Fleming of the Killorglin rowing club, along with his boat.
Rescuers used rope and put a floatation device around the donkey's neck. They carefully began to reel him in.
"Picture this," ARAH posted to Facebook. "He was my last chance and phone call to beg for a boat. He listened and he drove down to meet me. I knew straight away he had the guts to do it. No negative attitude just come on girl we'll give it a go. He braved such dangerous water to help us save him."
After the donkey was pulled from the waters to safe ground, his face is the beautiful picture of relief.
AHAR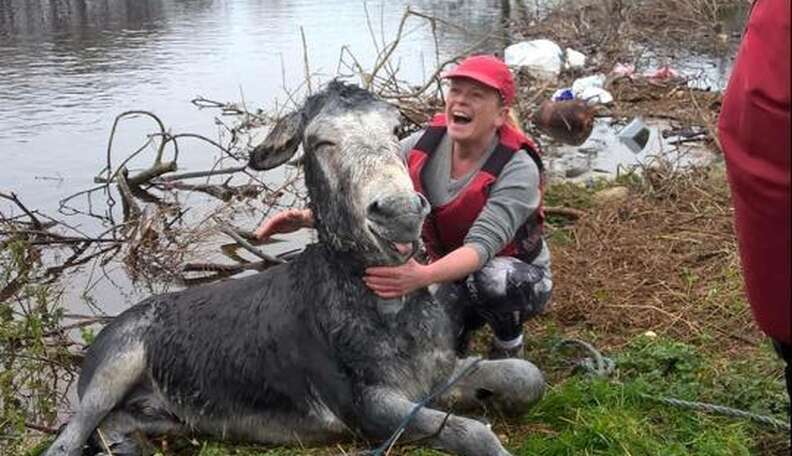 The lucky donkey was named Mike, after his hero.
Until then, he's happily warming up under heat lamps at AHAR.
"You are an inspiration! Feel so emotional looking at this wee story, he looks so happy," one commenter wrote on Facebook.
"Poor boy must have thought his life was over yesterday," another observed, "well done to all involved ... think he is actually smiling."
"Mike would like to say hello to all his fans and say thank you very much for all your lovely comments wishing him well," AHAR wrote early on Monday. "He is feeling much better."