When she was just five days old, little Eden was abandoned at a bus stop in her birth country of China. And although she was eventually adopted by a loving family in the U.S. a few months later, it seemed she couldn't shake the trauma and heartache of being unwanted as a baby.
Her adoptive family, Kathryn and Kirk White of Topeka, Kansas, tried their best to comfort their growing girl, but the psychological toll of her troubled origins continued to haunt her even late into childhood. Eden was plagued with thoughts that her new family too might one day leave her behind.
"She was in a constant state of being afraid, of being left," Kathryn told the Capital Journal. "She couldn't calm down enough to get a good sleep."
That all changed last summer. In hopes that it might breach the dark clouds that had hung over now 9-year-old Eden for so long, the Whites agreed to open their home to a needy dog. Little could they have guessed what a difference it would make in the life of their daughter.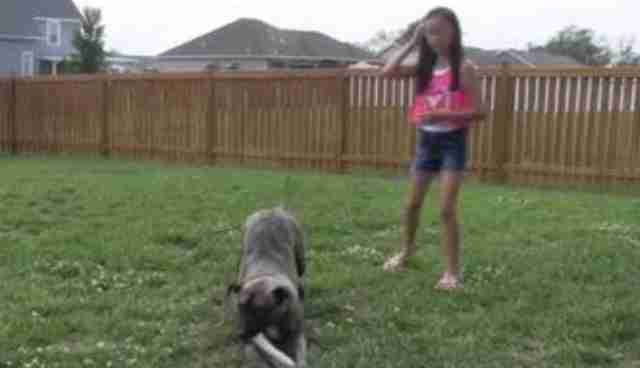 Kathryn says that she and her husband had been wanting to find a small dog, one that would be "something small she could put bows on." So when they reached out to the Second Chance Animal Refuge Society to adopt, they were more than a little hesitant when the director introduced them to a 50-pound mutt named Marvin.
Their daughter, on the other hand, immediately took a liking to the energetic pup. As it turns out, he was also abandoned, left to fend for himself as a puppy before being rescued and nursed back to health. The similarities of their backstories wasn't lost on Eden.
"Marvin, I got left behind, too, once. But sometimes, God does that so you can end up in the family you're supposed to be in," she told the dog.
Sensing the pair's connection, Marvin was soon welcome to join the family. Nowadays, he and Eden rarely leave one another's side. But more than sharing the couch, bed, and playtime in the yard, the once-abandoned girl and her dog share a connection.
"They've been like this from the start," says Kathryn. "He loves all of us, but he and Eden have A Thing."
"[It's] because we're alike," Eden responds. "We don't like to be alone."
Considering how their two lives that got off to such rocky starts on different sides of the globe, each faced with what had been an uncertain future, the fact they found one another seems all the more fated.
"The point was for him to make her feel more secure, but I think she's done that for him, too," says Kathyrn. "He's a symbol of trust. And vice versa."