By the time someone came to her rescue, Luna the dog was near death. The emaciated canine was starving in a backyard in Mexico, as her owner couldn't afford to feed her.
"There was just something really soulful about her," photographer Tracey Buyce told The Dodo. "I just knew I couldn't leave her there."

Buyce, who is also a board member for Cats and Dogs International (CANDi), found Luna in Bonfil, Mexico, during one of the group's spay and neuter clinics in 2013. Though Buyce had photographed hundreds of dogs for CANDi, Luna stood out. Buyce convinced Luna's owner to relinquish the dog, and rushed her to a local vet who volunteered with the organization.
There, they discovered that Luna was "days from death," Buyce said. She was in the late stages of starvation and also had cancer, though it was luckily treatable.
Now, two years later, she's happy and healthy, thanks to an international rescue. A video showcases her dramatic transformation, and shines light on the plight of neglected dogs in Mexico and the Caribbean, where many of the stray populations suffer from rampant overpopulation, abandonment and starvation.
Knowing that the presence of neglected dogs will upset travelers, local governments and tourist industries sometimes round up the hungry dogs and poison, drown and electrocute them, according to CANDi.
"It's an epidemic," Buyce said, explaining that many local people can't afford to feed or vaccinate their own children, let alone their pets. CANDi works to fight the overpopulation crisis by setting up free spay and neuter clinics. They also encourage visitors to feed local dogs, as in many cases it might be their only meal for a few days.
Luna is now flourishing in the U.S., where she was adopted by a family in Saratoga Springs, New York.

Recent photos show her playing with her new family, sneaking a lick from her human sibling's ice cream cone and hanging out with her new brother, a chocolate Lab whom she bosses around.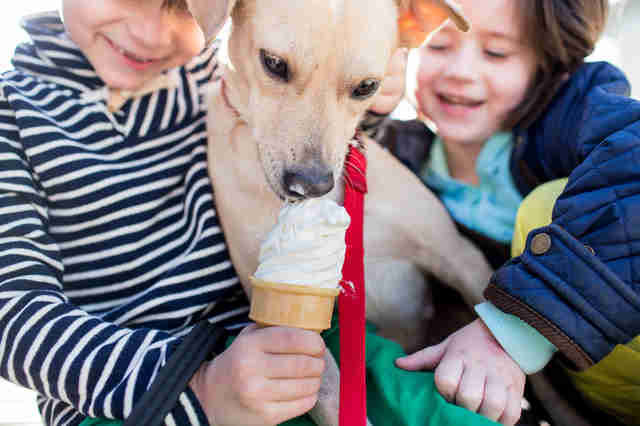 "She's super sweet," Buyce said. "She fit in with that family like it's always been her home. I really feel like it was meant to be."
You can watch the heartwarming video of Luna's rescue below: