Cow Won't Let Anyone Near Her Baby Until She Knows She Can Keep Him
"She would usher Nutmeg behind her every time a human came around."
A pregnant cow named Betsy had no reason to believe that her new baby would be safe.
Before playing a role in the TV show "Utopia," Betsy had lived on a dairy farm, where she was made to have babies so that she would keep producing milk. But her babies were always taken almost immediately away.
So when her calf was born two weeks earlier than expected at her new home, she wouldn't let anyone near him.
But what Betsy didn't realize is that her new home was very different from her old one.
She had just had her baby at Farm Sanctuary's northern California location. The producers of the canceled TV show retired Betsy and two other cows to the sanctuary when they decided that they deserved a better life.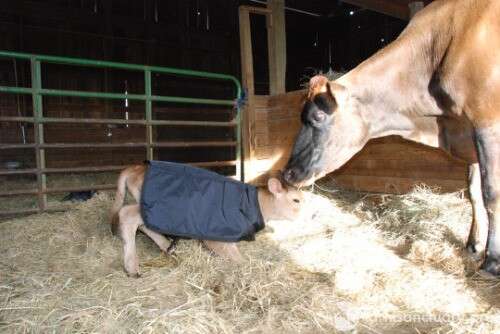 "Betsy clearly remembered all too well the pain of having a baby taken away," Farm Sanctuary wrote. "Not yet understanding that this time was different, she would usher Nutmeg behind her every time a human came around in an effort to prevent him from being taken away."
Sanctuary workers talked to Betsy to reassure her that she had nothing to worry about - she and her son would be together for the rest of her life.
But Betsy took some convincing. For two weeks she was worried for her son's future. "It was heartbreaking to see the fear in her eyes at the thought of losing another baby, but we took comfort in the knowledge that this would never again happen to her," the sanctuary wrote.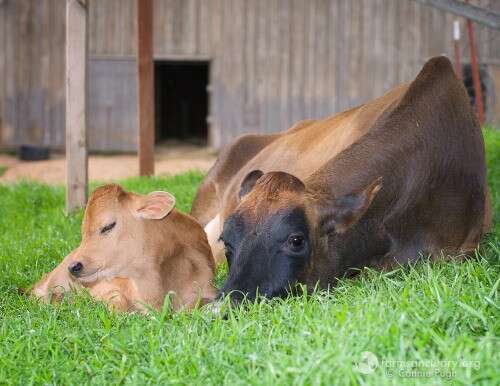 Finally she returned to her normal self, and she and her son joined the rest of the rescued herd at the sanctuary, where they formed friendships with the other cows and steers.
"Cows are closely bonded to their families, and if allowed, will stay with their children for their entire lives," Susie Coston, national shelter director for Farm Sanctuary, told The Dodo. "Those who we bring in singly create family bonds with their herd mates - especially the calves."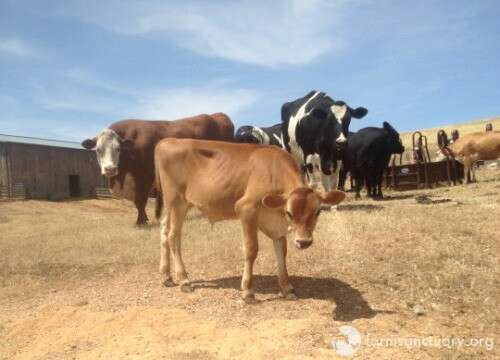 And these bonds last a lifetime, because cows are very emotional animals.
"When a member of the herd dies ... often the entire herd gathers around that animal," Coston explained. "In a sanctuary setting they don't feel the fear that they would in the industry so they react very emotionally to the loss of one of their own. We have seen it so many times."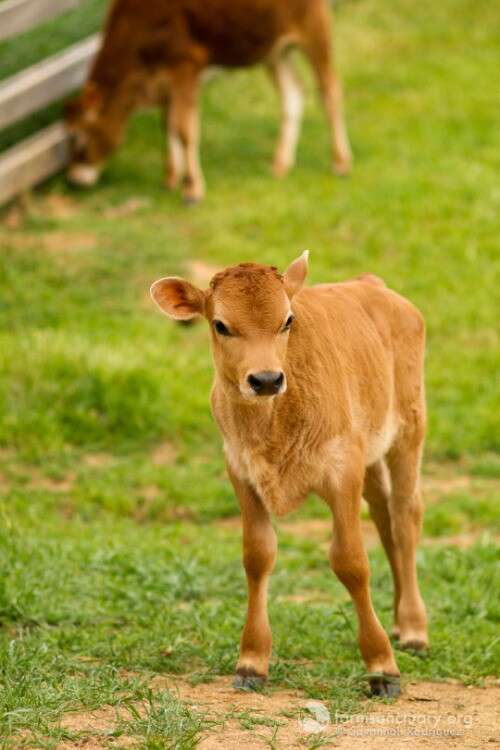 Now Nutmeg is 2 years old and growing into a large, healthy steer alongside his mom. And the people who work at and visit the sanctuary feel the privilege of seeing these animals bond the way they all would, given the chance.
"We are so blessed to see these beings in a space where they feel safe enough to show love to each other," Coston said.
And so are we.
To help Farm Sanctuary care for its special residents, click here.