Baby Cow Rescued From Filthy Farm Recovers In Her New Parents' House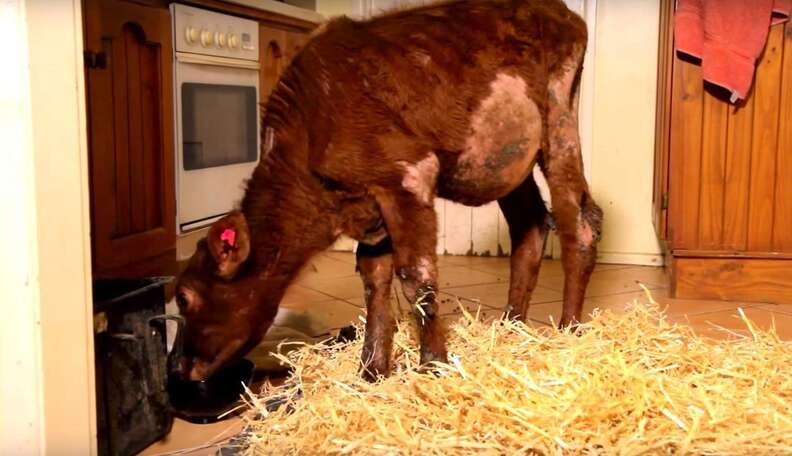 <p><a href="https://www.youtube.com/watch?v=Ra0rxkt_uWE&feature=youtu.be" target="_blank">YouTube/Vegan Journey</a></p>
<p><a href="https://www.youtube.com/watch?v=Ra0rxkt_uWE&feature=youtu.be" target="_blank">YouTube/Vegan Journey</a></p>
When Fiona the cow first arrived at Australia's Farm Animal Rescue, up to 40 percent of her body was burned - not from a fire, but from soaking in her own urine. As a result of wallowing in her own filth for so long, she lost large patches of fur.
She was just 4 weeks old.
"It is quite apparent that Fiona has been kept in a dirty crate filled with her own urine and excrement," the rescue wrote about Fiona on its website. "This is a common process in most [dairy farms], where the primary concern is removing babies from their mothers as soon as possible so that humans can have the milk."
Furthermore, due to the constraints of where she was previously housed, Fiona's legs did not develop properly and lacked muscle definition. She was also terrified of people.
But despite the horrid conditions she came from, Fiona showed signs of hope - signs that she was capable of making a full recovery. The rescue described her as "bright and playful."
With antibiotics and round-the-clock care afforded to her, Fiona learned to take her first few steps of freedom inside the safety of a warm home, under the care and guidance of the rescue's volunteer staff.
In time, she became clearly more comfortable with receiving affection from humans ...
... and drinking out of her bottle.
Just five weeks after her arrival, Fiona made the most remarkable transformation.
As her fur grew back in, she started to mingle with other cows like herself and found a protective big brother in Sersha ...
... who proved to be nothing but gentle with his little sister. He taught her how to enjoy life as a free and happy cow.
She was even spoiled with kisses from Sam, another cow who also adopted her as his sister.
Today, Fiona is all grown up and now returns the favor of all the care she received by making herself a surrogate mother to younger calves in need.
Most recently, she's been carefully watching over Cale and Alfie.
Fiona's been a great comfort to both young calves, just as she had an entire team comforting her and supporting her in order to see her become the beautiful, loving cow she is today.