Eye Surgery Lets Abused Dog See His Rescuer For The Very First Time
<p> <a href="https://www.facebook.com/profile.php?id=100008209925465">Facebook/MandyJust-Mansolino</a><span></span><br> </p>
<p> <a href="https://www.facebook.com/profile.php?id=100008209925465">Facebook/MandyJust-Mansolino</a><span></span><br> </p>
Things haven't been easy for Chopper - rescued from life as a bait dog in a fighting ring, he was adopted by a kind owner who soon passed away. He was adopted again, but his new owner fell on hard financial times, and Chopper was living with his human on the streets of Fort Lauderdale, Florida, when dog walker and animal lover Mandy Just-Mansolino met him.
She instantly recognized that this was a dog who needed help. Chopper had fleas and parasites, and advanced cataracts in his eyes had taken away his vision. Mandy took Chopper in and began caring for him - and trying to figure out a way to help him see again.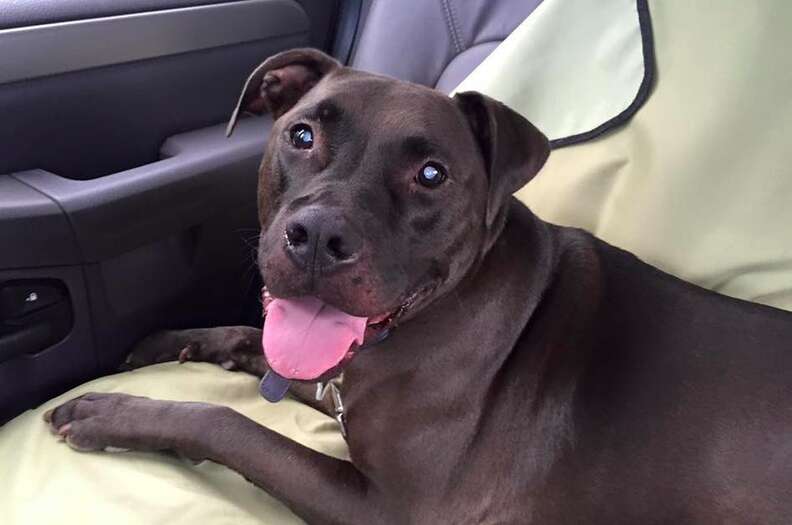 Mandy's quest to raise the money for Chopper's cataract surgery led her to Dr. Dylan Buss, a veterinarian at the Animal Eye Specialty Clinic in Fort Lauderdale, who told The Dodo about the series of events that landed Chopper at the clinic. "Mandy is so kind and compassionate," Dr. Buss said. "We offered to do [the surgery] for substantially less."
With help from Dr. Buss and the team at the clinic, Mandy was able to afford the surgery for Chopper, and earlier this week his cataracts were successfully removed. Chopper was able to see, for the very first time, the woman who had rescued him.
"He's such a sweet dog, he just wants to give kisses," Buss told The Dodo. "It is a very rewarding surgery."
Now Chopper is recovering at home with Mandy, and his vision is improving every day. But his journey isn't over - with several dogs of her own, Mandy is unable to keep him forever. Soon she'll start looking for the perfect forever home for this deserving dog.
Chopper has been through a lot, dealing with more up and downs than any dog deserves. But now, thanks to kindness from the humans he's met along the way, Chopper is headed for a happy - and permanent - home.