Budi The Baby Orangutan Wows Rescuers By Mastering Bottle Time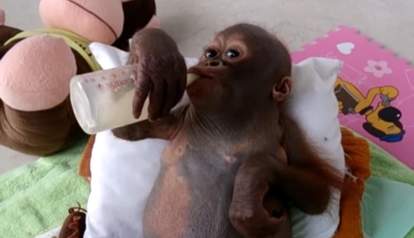 <p> <a class="checked-link" href="https://www.youtube.com/watch?v=Zf5aKfKLVas">YouTube/International Animal Rescue</a><span></span> </p>
International Animal Rescue (IAR) in Indonesia says the 10-month-old, admitted to a clinic in December malnourished and on the verge of death, is now strong enough to do something that seemed impossible just a few weeks earlier: lift a bottle to feed himself.
It might not seem like such a major achievement, but rescuers say that for a youngster in his condition, it's a heartening indicator that he's getting better with treatment.
"Budi continues to improve every day, and surprises his caregivers with his newly gained skills," writes IAR on Facebook. "Each milestone achieved is a wonder, but we remember that it's all relative. The swelling and pain in his body has receded, but this has revealed the misshapen and weak muscles of his arms and legs."
Rescuers say that Budi still has a challenging road ahead of him to heal from the physical maladies and emotional distresses lingering from the many months he spent cooped up as a house pet. But although he tires easily and often cries himself to sleep, the little orangutan has proven to be far more resilient than his fragile frame might suggest.
"Our team remains optimistic," writes IAR. "Budi has a strong spirit and is being provided with supplements, vitamins, and all the love and care he needs to correct his abnormalities and continue to develop."
Although Budi's history is unclear, the circumstances he was rescued from are all too familiar. The World Wildlife Fund reports that baby orangutans are routinely stolen from their parents to be sold into the exotic pet trade - where an estimated four to five baby orangutans die for every one that survives long enough to make it to market.
Meanwhile, other problems persist for the iconic primates. In the past two decades alone, 80 percent of orangutan habitat has been cleared to make room for large-scale agricultural projects, like massive palm oil plantations.
Visit IAR's website to learn how you can help Budi and others like him.