Rescued Baby Possums Take The Tiniest Little Bites Of Watermelon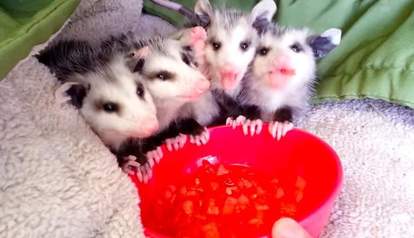 <p> <a href="https://www.youtube.com/watch?v=oM-TBYPLz-U" target="_blank">YouTube/TerriCarlisi</a> </p>
We already knew that baby possums are completely loveable, but these little rescues chowing down on watermelon might be the most charming things ever.
Look at how they all chew in unison!
YouTube/TerryCarlisi
YouTube/TerryCarlisi
Check out this video of the little critters as they munch away - and be sure to turn up the volume so you can hear their happy little smacking sounds.
Terri Carlisi, who uploaded this video to YouTube in 2013, explained, "The mother of these possums was hit by a car ... I raise the babies for 6 months then turn them loose on 3000 acres with reservoirs and I still see one or two once in a great while."
Possums are soo underrated.