Some baby elephants go through more trauma in their first few months than anyone does in a lifetime.
Rapa is a 5-month-old elephant who was found trapped in a well in Kenya last week. By the time help arrived, his mother and herd were nowhere in sight.
Rapa may have lost everything he had in the world, but rescuers at the David Sheldrick Wildlife Trust (DSWT) were determined that he not lose his life.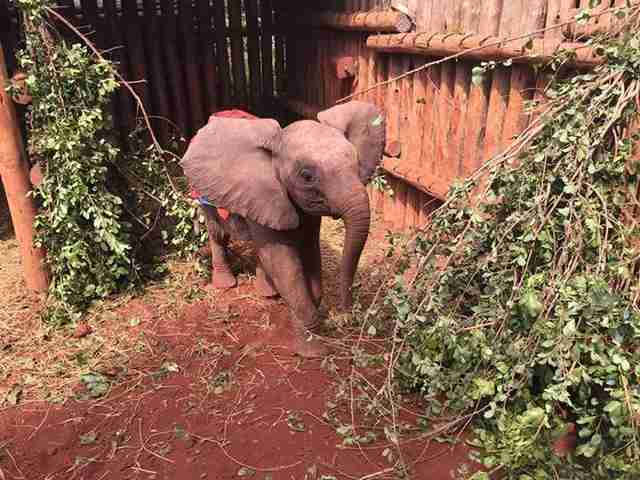 "All young elephants are extremely fragile, not least when they are still milk-dependent and have experienced being orphaned," Rob Brandford, the trust's executive director, told The Dodo. "For any rescue, the first few weeks for any young elephant orphan are always critical, as orphaned elephants learn to adapt to their new surroundings."
Part of Rapa's recovery has been making new friends who will help him feel at home. "In Rapa's case, we must let him grieve and work around his recovery path making sure that he feels part of our family and herd, and has the space to grieve like humans do, whilst ensuring he feels constantly reassured," Brandford said.
Just four days after being rescued, Rapa went out into the forest with the herd of other orphans for the first time. Even though he was still a little agitated, rescuers thought that meeting others like him could help him feel more settled.
"When his door was opened, Rapa couldn't wait to rush out and meet all the orphans and in no time the herd had run together from the stables to the bush," DSWT wrote on Facebook. "There was so much excitement and the orphans each wanted to officially greet the latest addition and, much like wild elephants welcoming a newborn baby, they frequently enveloped this little chap in a protective circle, a wonderful sight to behold."
This is just the beginning of a new life for the little elephant. According to the DSWT, Rapa will be in its care and a member of their human-elephant family for many years. At around age 3, Rapa will be moved to DSWT Reintegration Centres, where he will meet wild herds and slowly learn to become independent and reintegrated back into the wild - a process that takes about a decade.
Rapa would not have survived without the DSWT, which is currently caring for over 70 orphaned elephants. "Poaching is a huge threat facing elephants right now, but habitat destruction, which can lead to elephants and humans sharing the same resources, can also lead to elephant families being torn apart," Brandford said.